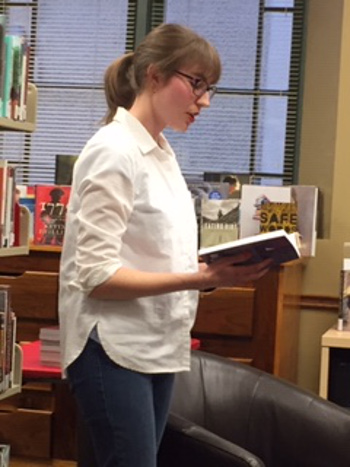 Talks
I have spoken about the power of storytelling at writing organizations, such as Sisters in Crime, universities, schools and libraries. Below are some examples of talks I give to readers and writers, based on my own experiences as an avid crime fiction reader, novelist and teacher.
To inquire about my rates and availability, send me an e-mail.
Options include:
Writing Mysteries
Delectable Mysteries: Food in Crime Fiction
Escapist Reads: The Lasting Appeal of Crime Fiction
A Sense of Place: Setting in Cozy Mysteries
How to Read Like a Writer
---
Writing Workshops
Unlock your imagination.
Ready to take your writing to the next level? Want to write but don't know how?
My workshops are designed with fun in mind. Storytelling is, after all, about entertainment. Participants — from beginners to advanced writers — learn how to craft stories, via discussion questions that emphasise the power of brainstorming and writing prompts that ignite creativity.
Options include:
where to find inspiration
how to craft characters that walk off the page
how to write dialogue that sings
how to write active setting
how to hook the reader with conflict
how to silence the inner critic
---
Book Clubs
Book clubs are a joy to visit. I love connecting to readers, sharing insights into my creative process and answering questions about my books!
To invite me to speak with your book club over Zoom, send me an e-mail or inquire below.
Praise
The Asphodel-Norwood Public Library was thrilled with the response to the four week Creative Writing Workshop hosted by Vanessa Westermann. Vanessa created a welcoming and safe space for participants to learn and express their creativity. Her expertise allowed us to provide this intergenerational learning opportunity in our rural community. 100% of the participants who provided feedback would participate in a future workshop. This session was a huge success!
Vanessa charmed the dozen people at the [library's book club] meeting with her bright energy and constant smile. Her love of the Kawarthas and cottage life shines through in her mystery and in her joy in talking about the book and the creative path she followed writing it.
One of the last things Vanessa said to us was something along the lines of having to read a lot, and use everyday experiences to nourish your writing, which really resonated with me. I feel like a dead plant after neglecting my writing for so long while raising my kids, she made me feel like I didn't lose something rather I just have to nourish it to get it back. She made something I thought was unattainable now within reach. In only two sessions. She's a great teacher!