As a reader, I used to love dialogue. Setting, on the other hand, I glossed over. I didn't want to get held back by what seemed like set design for banter and the next verbal sparring match.
Then I got the revision notes for Cover Art: add 25,000 words of description.
I needed to add setting details to my manuscript without slowing the pace. I wanted to make editing as fun as possible for myself. The process changed how I write and how I read.
Here's what I learned…
Specificity
Research specific nouns (hello, Google Image).
Use active verbs.
Avoid (or delete) adverbs.
"Give things the dignity of their names… Learn the names of everything: birds, cheese, tractors, cars, buildings. A writer is all at once everything — an architect, French cook, farmer — and, at the same time, a writer is none of these things." — Natalie Goldberg, Writing Down the Bones
"Wanting to make the world on the page seem real to the reader, our first impulse is sometimes to reach for adjectives and adverbs, those QUALIFIERS intended to lend a host of sensory qualities to the sentence or the line. But be careful — it's often the case that writers turn to those additives — like spices in the kitchen — when the main ingredients themselves seem bland. If the nouns and verbs themselves aren't interesting enough, no amount of adjectival or adverbial flavoring is going to really do the trick." — Mark Doty, The Art of Description: World into Word
Make It Personal
Memories and personal experiences add authenticity to description and create a living, breathing story world.
"The real world and personal experience feed into imaginary settings and are a vital part of worldbuilding." — Jeff Vandermeer, Wonderbook
Sensory Details
The five senses can create the fictional equivalent of virtual reality.
"This is the power of adding sensory details to Setting description. Readers quickly find themselves pulled deeper into the Setting. They can feel themselves there on a 3-dimensional level versus simply a visual level." — Mary Buckham, A Writer's Guide to Active Setting
Emotion
It's a character's perception of the world that matters to the story.
"Landscape not invested with emotion or point of view is lifeless." — Jeff Vandermeer, Wonderbook
"[Filter] the setting through the experience, emotion, and mindset of one character at a time." — Mary Buckham, A Writer's Guide to Active Setting
Painting with Words
The best analogy I came across for crafting setting is wordpainting. I dab verbs and nouns onto a roughed-out draft, building up layers of description.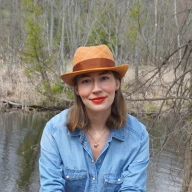 Vanessa is a Canadian crime writer. She is the author of Cover Art and other books. At the heart of all of her stories are strong female protagonists.
Read More About Vanessa Westermann