Olivia Matthews is the cozy mystery pseudonym of best-selling author Patricia Sargeant. Patricia's work has been reviewed in publications such as Publishers Weekly, USA Today, Kirkus Reviews, Suspense Magazine, Mystery Scene Magazine and Library Journal. For more information about Patricia and her work, visit PatriciaSargeant.com.
Hi Olivia! Could you tell us briefly what your latest book is about?
Olivia Matthews: Hi, Vanessa! Thank you so much for the opportunity to chat with you and your community. I'm thrilled to be here.
My latest book, Hard Dough Homicide, is the second story in my Spice Isle Bakery Mystery culinary cozy mystery series. Our protagonist, Lyndsay Murray, and her family are hired to cater a retirement dinner for six for her mother's tremendously unpleasant former boss, Principal Emily Smith. Things go horribly wrong when Emily dies shortly after the dinner begins. When the cause of death turns out to be poisoning, Lyndsay's family-owned bakery experiences a painful decline in business. Things get worse when Lyndsay's mother becomes a person of interest in the murder. To save her mother—and their bakery—Lyndsay launches her own investigation into who killed the principal.
Does one of your characters hold a special place in your heart? If so, why?
OM: I love all the characters in Hard Dough Homicide, even the grouchy ones. Ha! Lyndsay doesn't think she has any self-confidence, but she becomes fierce whenever her family's threatened. Her parents, Cedella and Jacob, are so supportive of their family and so very much in love with each other. Her brother, Devon, has always been protective of his little sister. And her grandmother, Genevieve Bain, is deliciously blunt. If I had to choose one favorite, for today, it would be Genevieve. She's a storyteller like my father; a mentor like my mother; and a craftswoman like my aunt.
If you could have lunch with one of your characters, which one would it be and why? And where would you choose to meet for lunch?
OM: Oh, that one's easy! I'd love to get together with Granny so she could tell me more stories about her childhood in Grenada and her world travels with her deceased older sister, Winnie. And we'd meet for breakfast at Spice Isle Bakery so I could spend the whole day with her.
What kind of research did you do while writing this novel?
OM: For my Spice Isle Bakery Mystery series, I wanted to represent Grenadian culture through history, colloquialisms, folklore and music in addition to food. For those things, I spoke with relatives, called on memories, and read articles and books.
What books have most influenced you as a writer?
OM: Goal, Motivation and Conflict by Debra Dixon and The Writer's Journey by Christopher Vogler. Those books helped me learn to plot my stories.
I love reading books on writing but have not The Writer's Journey by Christopher Vogler. I'm adding it to my TBR pile!
OM: Vanessa, thank you again for inviting me to visit with your community. This was fun. Happy sleuthing!
---
Visit Olivia Matthews on social media!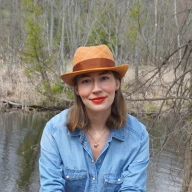 Vanessa is a Canadian crime writer. She is the author of Cover Art and other books. At the heart of all of her stories are strong female protagonists.
Read More About Vanessa Westermann