Did you laugh-cry when you read the post going around social media about how authors are expected to write, read, edit and proofread, run blogs and newsletters, read other books, study writing, make ads and fancy graphics? Yup, me too. Don't get me wrong, I love creating graphics. It's a fun way to connect with readers and showcase book covers, but creating designs is time consuming. And it always seems to take longer than planned.
When Visme offered me a free trial account for review consideration, I was excited to try a design tool that promised to be fast and effortless, but also a little hesitant about the learning curve. But… there wasn't one! Visme really is made for non-designers.
What is Visme?
Visme is a content creation tool that's easy to use, even for those who have little to no design skills, but still powerful enough for the pros. From social media ads, website banners and GIFs to printables, such as posters, flyers and bookmarks, Visme offers a huge selection of design templates authors can use to market their books both online and in-person.
Highlights
Visme requires no design experience! The interactive tools are clearly labelled, eliminating the need to research what each tool does. You can animate any object and assign actions, such as links, roll-overs or pop-ups. Projects can be downloaded as JPG, PNG or PDF and used online or offline.
It's easy to create a strong author brand by saving your colors and fonts as assets in your dashboard.
The illustrations unfortunately were too business oriented for me and I haven't used them much, but the minimalist wireframe graphics are great for adding social media icons to printable projects.
My favourite features are—surprise, surprise—text related. The call-to-action buttons are wonderful time-savers. And I love the library of suggested font pairs that I can drag-and-drop directly into my project as a text block and then edit.
Cost
A free account provides you with access to most templates and 100 MB of storage.
Paid accounts start at US $12.25/month and offer features, such as downloading projects for offline use, premium widgets and thousands of ready to use design templates.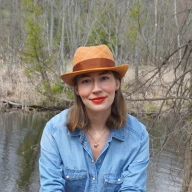 Vanessa is a Canadian crime writer. She is the author of Cover Art and other books. At the heart of all of her stories are strong female protagonists.
Read More About Vanessa Westermann