Saturday, August 13, 2022
1 PM - 4 PM
873 Lansdowne St, Peterborough, ON K9J 1Z5
In-Person.
I will be hanging out at this awesome bookstore and signing copies of Cover Art. I look forward to seeing you there!
For updates on events happening at Chapters in Peterborough, follow the store on Facebook.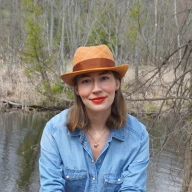 Vanessa is a Canadian crime writer. She is the author of Cover Art and other books. At the heart of all of her stories are strong female protagonists.
Read More About Vanessa Westermann