Saturday, June 4, 2022
1:00 PM - 2:00 PM
Register via Eventbrite

FREE ONLINE EVENT
Join us in celebrating the launch of my cozy mystery, Cover Art!
During the event, I'll be interviewed by Marian Misters. Marian is the owner of Sleuth of Baker Street mystery bookstore. She was the Jury Chair for the Crime Writers of Canada Arthur Ellis Awards and is the recipient of the Derrick Murdoch award for her contributions to the crime genre.
There will be a giveaway of handcrafted Canadian artisanal chocolate from Centre & Main Chocolate Co, for those who attend.
During the Q&A, you'll have the chance to ask me questions. I'm looking forward to it!
---
In case you missed it, you can watch the recording below: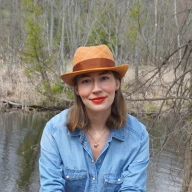 Vanessa is a Canadian crime writer. She is the author of Cover Art and other books. At the heart of all of her stories are strong female protagonists.
Read More About Vanessa Westermann