Art is all about perspective, about noticing the details.
When we try to find the meaning behind an artwork, we raise questions and search for answers. To really understand an artwork, we have to pull it apart and figure out how the pieces fit together to make a whole. Looking at art is like solving a puzzle. Or a mystery.
Below are ten of my favourite crime novels that combine art and murder, blood splatter and paint splatter.
The Five Red Herrings by Dorothy L. Sayers (1931)
During a painting retreat, a killer takes a creative approach to the ancient art of murder…
In the idyllic village of Kirkcudbright, every resident and visitor has two things in common: They either fish or paint (or do both), and they all hate Sandy Campbell. Though a fair painter, he is a rotten human being, and cannot enter a pub without raising the blood pressure of everybody there. No one weeps when he dies.
Campbell's body is found at the bottom of a steep hill, and his easel stands at the top, suggesting that he took a tumble while painting. But something about the death doesn't sit right with gentleman sleuth Lord Peter Wimsey.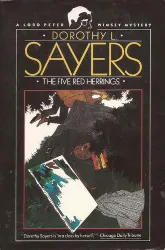 Death of a Ghost by Margery Allingham (1934)
John Sebastian Lafcadio, is one of the greatest painters of the Edwardian period, and his ambition to be known as the greatest painter since Rembrandt was not to be thwarted by a matter as trifling as his own death. Lafcadio was not only a brilliantly talented, it appears, a bit psychic: Certain that his reputation would improve dramatically after his death, he left aset of twelve sealed paintings with his agent, along with the instruction that her widow should wait a suitable interval and then begin doling out the work to a newly ravenous public at the rate of one per year. Lafcadio's widow unveils the eighth canvas to a carefully selected audience. Albert Campion, an old friend of the widow's, is among the cast of gadabouts, muses and socialites gathered for the latest ceremony. The event is a success for all but one of the attendees—a young artist who is brutally stabbed while others are sipping champagne.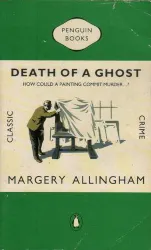 Artists in Crime by Ngaio Marsh (1938)
It started as a student exercise, the knife under the drape, the model's pose chalked in place. But before Agatha Troy, artist and instructor, returns to the class, the pose has been re-enacted in earnest: the model is dead, fixed for ever in one of the most dramatic poses Troy has ever seen.
It's a difficult case for Chief Detective Inspector Alleyn. How can he believe that the woman he loves is a murderess? And yet no one can be above suspicion…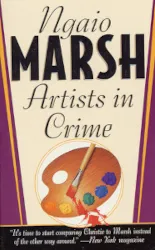 The Collector by John Fowles (1963)
Withdrawn, uneducated and unloved, Frederick collects butterflies and takes photographs. He is obsessed with a beautiful stranger, the art student Miranda. When he wins the pools he buys a remote Sussex house and calmly abducts Miranda, believing she will grow to love him in time.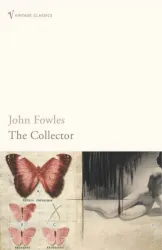 The Burglar Who Painted Like Mondrian by Lawrence Block (1983)
It's not that used bookstore owner and part-time burglar Bernie Rhodenbarr believes the less legal of his two professions is particularly ethical. (It is, however, a rush, and he is very good at it.) He just thinks it's unfair to face a prison term for his legitimate activities. After appraising the worth of a rich man's library — conveniently leaving his fingerprints everywhere in the process — Bernie finds he's the cops' prime suspect when his client is murdered.
Someone has framed Bernie Rhodenbarr better than they do it at the Whitney. And if he wants to get out of this corner he's been masterfully painted into, he'll have to get to the bottom of a rather artful — if multiply murderous — scam.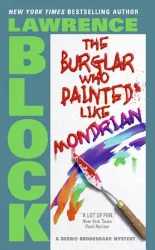 Still Life by Louise Penny (2005)
The discovery of a dead body in the woods on Thanksgiving Weekend brings Chief Inspector Armand Gamache and his colleagues from the Surete du Quebec to a small village in the Eastern Townships. Gamache cannot understand why anyone would want to deliberately kill well-loved artist Jane Neal, especially any of the residents of Three Pines - a place so free from crime it doesn't even have its own police force.
But Gamache knows that evil is lurking somewhere behind the white picket fences and that, if he watches closely enough, Three Pines will start to give up its dark secrets…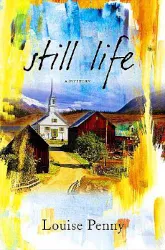 Feint of Art by Hailey Lind (2006)
he Brock Museum's new $15,000,000.00 Caravaggio painting is as fake as a $3.00 bill. The night Annie makes her shattering appraisal, the janitor on duty in the museum is killed and Ernst disappears. A well-known art dealer has absconded with multiple Old Master drawings, leaving forgeries in their places. Finding the originals and pocketing the reward money will help Annie get her landlord off her back. A close encounter with a fickle art thief could draw her into the underworld of fakes and forgers she swore she left behind…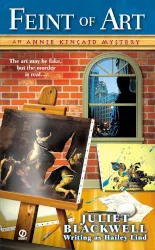 A Brush With Death by Elizabeth J. Duncan (2010)
When Penny Brannigan inherits a charming, old-fashioned cottage in the North Wales town of Llanelen, she soon realizes she has come into more than what real estate agents like to describe as a desirable period property: She's also acquired memories, mystery, and an unsolved, decades-old crime.
As Penny sorts through the belongings of her benefactor, a deceased teacher, she comes upon a packet of letters from a promising young Liverpool artist, A. Jones, who was killed in an accident in 1970. An artist herself, Penny sets out to discover who killed this painter, and is helped by a small group of townsfolk, including her business partner, Victoria Hopkirk.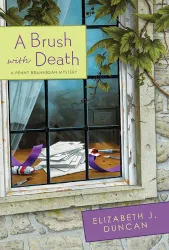 The Art Forger by B.A. Shapiro (2012)
On March 18, 1990, thirteen works of art worth today over $500 million were stolen from the Isabella Stewart Gardner Museum in Boston. It remains the largest unsolved art heist in history, and Claire Roth, a struggling young artist, is about to discover that there's more to this crime than meets the eye…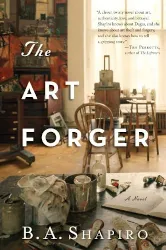 Wining And Dying by Daryl Wood Gerber (2021)
Crystal Cove is buzzing with the launch of its fifth annual Art and Wine Festival, when local wineries are paired with local artists to show off their latest creations. Jenna's thrilled to be showing one of her own amateur paintings at the fair, but her excitement quickly fades when an up-and-coming artist is murdered. What's more, all the evidence points to a good friend of Jenna's as the culprit, and she'll have to use all her wits to prove his innocence before he paints himself into a corner…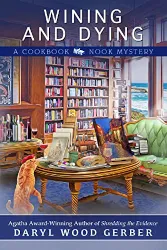 If I've missed any of your favourite art mystery books, feel free to give me a shout-out on Twitter @VanessasPicks!
Jacket blurbs abridged from GoodReads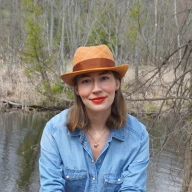 Vanessa is a Canadian crime writer. She is the author of Cover Art and other books. At the heart of all of her stories are strong female protagonists.
Read More About Vanessa Westermann