Let's not kid ourselves, writing a novel is a long process. A target word count of 70,000, 100,000 or more can be daunting, to say the least.
But there is a secret tool… Organization.
I heard that groan. But, in all honesty, organization really is the key to success. No matter how talented you are, if you can't meet that deadline, you're not going to get anywhere fast.
The first step is to figure out how long you want your rough draft to be. Go by genre conventions when setting your target. Cozy mysteries can be 40k, but commercial mysteries clock in at 100k or more.
To give you two ballpark figures:
An Excuse For Murder is 75k words long.
Cover Art is a cool 100k.
My rough drafts tend to run a little shorter. I write by sketching out scenes and then add layers of details in subsequent rounds. This allows me to focus on plot, tension and dialogue during the drafting process. Later on, I'll add descriptive details, to bring the setting to life.
Writing Longhand
If you like to write longhand, in a notebook, you could try Neil Gaiman's method and alternate the colour ink you use during each writing session. For example, one day, you might use blue, the next black, or opt for a more wild color spectrum. Flip through your notebook to see, at a glance, how much you managed to write each day.
Bonus Tip: I like to use Peter Straub's technique (referenced in Wonderbook-The Illustrated Guide to Creating Imaginative Fiction by Jeff Vandermeer) and draft on the right-hand pages of my notebooks only. I use the left-hand pages for revision notes and brainstorming.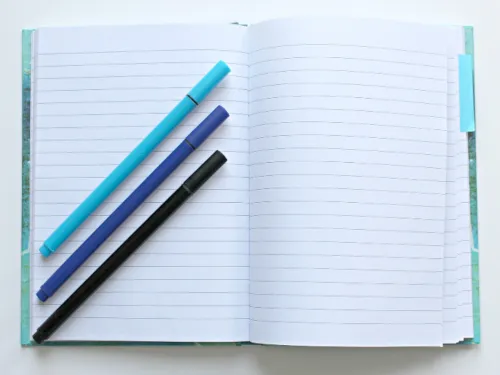 Excel Spreadsheet
An Excel word count spreadsheet is especially useful, if you frequently do writing sprints and want to store all of the nitty-gritty data for the year in one document.

Feel free to DOWNLOAD my Excel spreadsheet.
Adapt the spreadsheet, so that it works best for you.
I use the spreadsheet to track, not only my productivity, but also my creativity. I can record the date, time, as well as whether I'm writing longhand or on the computer, editing or drafting. The spreadsheet gives you an overview of your daily word count, monthly total and total for your Work in Progress.
If you work on multiple projects at once (I tend not to, except for the occasional short story), you could add a column for "project title".
The goals column is great, if you have a deadline to meet. Want to have your draft done by June? Divide your total target word count by the number of months you have to write, and you'll know exactly how many words you need to produce each month.
Writing Calendex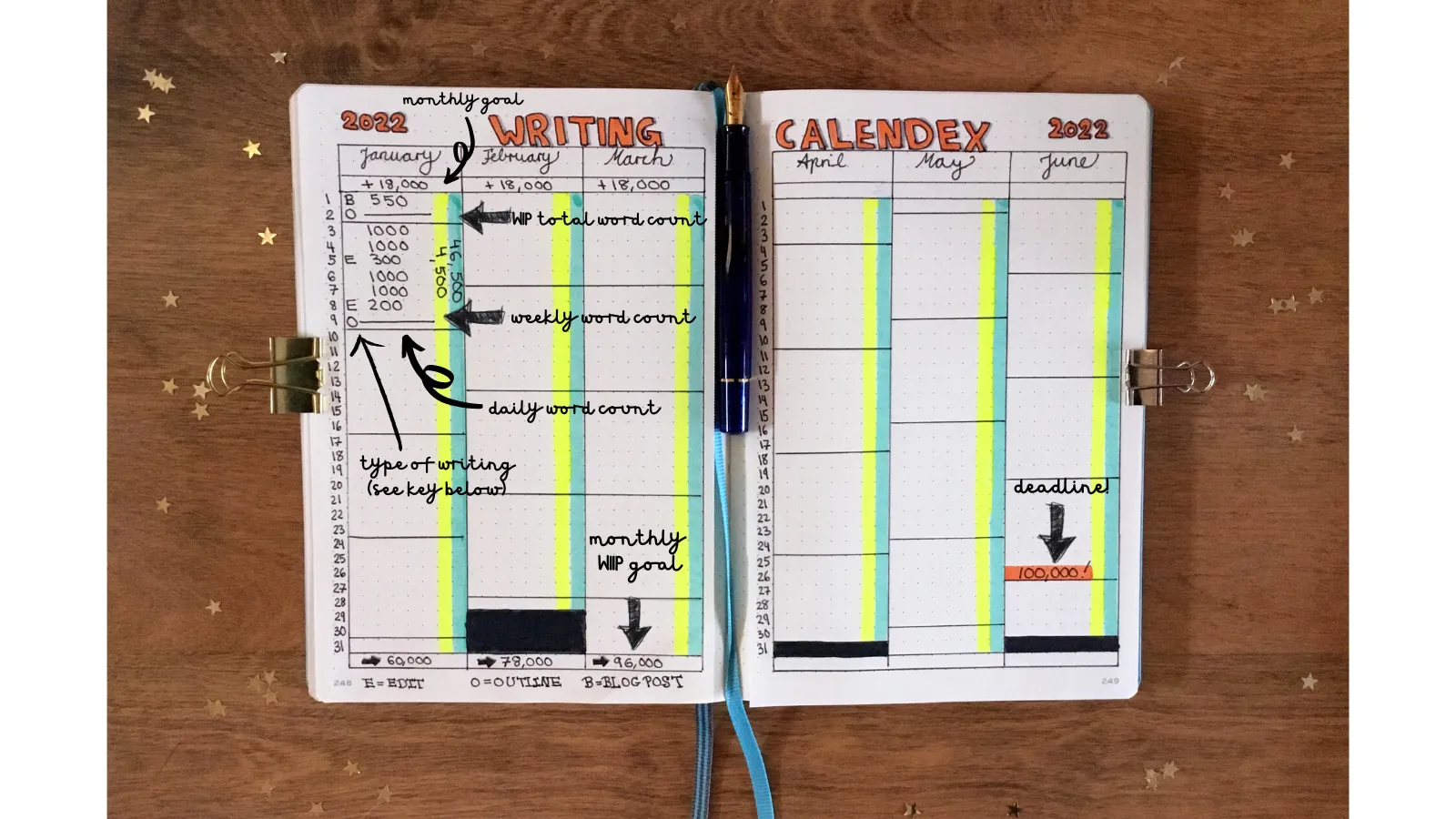 At the moment, the Calendex is my preferred word count tracker.
Over the past year, I've been using Ryder Carroll's Bullet Journal method, to keep on top of my writing commitments. I love it, because all you need is pen and paper (give me any excuse to buy a new notebook…) and flexible enough that it can evolve to suit different needs.
I adapted the Calendex Future Log system by Eddy Hope to use as a word count tracker, goal setting system and year-at-a-glance overview. You can find out more about the original Calendex system HERE.
All you need is a notebook (graph or dotted paper), and a pencil/pen to create your own Writing Calendex.
My Calendex is four pages in total. I use the top and bottom rows to set monthly goals. I keep track of my daily word count, adding a signifier only if I'm editing, outlining or writing a blog post. In the yellow highlighted column, I total my daily word count that I've added to my Work in Progress (WIP) over the course of the week. In the blue column, I record the total word count of my WIP. And, of course, I've marked out my deadline.
I tend to set my goals low, because it's more rewarding if I can meet and exceed them, than if I set them too high from the get-go. I aim for about 4,500 words a week. I tend to sketch out a scene, then go back and add a layer of details or improve character reactions, before moving on to the next. Of course, that does change, depending on the deadline and time frame I have to work with.
I hope this is helpful to you!
Staying Motivated
Celebrate those small achievements along the way. Writing a book is a marathon, not a sprint, and the process should be fun. When you hit a milestone, reward yourself. It can make all the difference in keeping up your motivation and energy.
Go on. Set those goals. Then smash them.
Happy new year!
Vanessa xx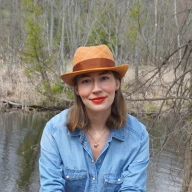 Vanessa is a Canadian crime writer. She is the author of Cover Art and other books. At the heart of all of her stories are strong female protagonists.
Read More About Vanessa Westermann