When the moon is full, humans can become moody, nervous, irritated or even—in crime fiction—trigger-happy. Linked to darkness, crime and passion, the moon holds a particular fascination for writers. Who can forget Anton Chekhov's advice on writing description? "Don't tell me the moon is shining; show me the glint of light on broken glass." In Moonlight & Misadventure: 20 Stories of Mystery & Suspense, edited by Judy Penz Sheluk, award-winning American and Canadian short story writers shed the glint of moonlight, not on broken glass, but on mistakes, misdemeanors and murder.
In "Scavenger Hunt" by Michael A. Clark, an FBI agent tries to revive his stagnant career by infiltrating a group of criminals, searching for a nuclear warhead to sell to disreputable parties. As he tracks the fading radioactive emissions from the bomb's explosive core through a swampy, moonlit lagoon, he has to work to prevent his cover from being blown.
Susan Daly's "My Night with the Duke of Edinburgh" is a fun caper in which the waxworks replica of the Duke of Edinburgh is kidnapped from the Royal Ontario Museum for a moonlight escapade.
In "Reunions" by John M. Floyd, two strangers meet on a plane: a tax lawyer and a police sergeant. They have a casual conversation about the toll frequent travel takes on marriage, but the cop has a strong opinion about how infidelity should be punished. For the lawyer, on his way to see his mistress, the conversation hits too close to home and he can only hope the other man is a passing acquaintance…
In this anthology, the moon God himself makes an appearance in M.H. Callway's "The Moon God of Broadmoor". A public health inspector has a run-in with an unusual man who dresses and acts like the moon God Thoth, god of wisdom, justice and death.
Spanning the sub-genres of crime fiction, Moonlight & Misadventure illuminates the darker side of human nature that comes out at night. The moonbeams these authors cast on nefarious deeds are sure to dazzle readers of short stories.
The anthology features tales by K.L. Abrahamson, Sharon Hart Addy, C.W. Blackwell, Clark Boyd, M.H. Callway, Michael A. Clark, Susan Daly, Buzz Dixon, Jeanne DuBois, Elizabeth Elwood, Tracy Falenwolfe, Kate Fellowes, John M. Floyd, Billy Houston, Bethany Maines, Judy Penz Sheluk, KM Rockwood, Joseph S. Walker, Robert Weibezahl, and Susan Jane Wright.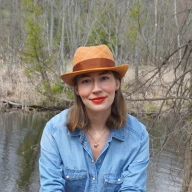 Vanessa is a Canadian crime writer. She is the author of Cover Art and other books. At the heart of all of her stories are strong female protagonists.
Read More About Vanessa Westermann