In The Ancient Dead by Barbara Fradkin (the 4th book in the Amanda Doucette Mystery series), a photographer discovers a human bone in an Alberta coulee. A million undiscovered bones lie hidden in the ruthless wilderness. But this one is newer, fresher. Unearthed, it brings secrets to light. Secrets someone would rather keep buried, no matter the cost.
Amanda Doucette is in Alberta to organize her Fun for Families adventure trip for First Nations youth. The money raised by the charity will support Reconciliation Canada. She plans to have the teenagers dig for dinosaur bones, climb hoodoos and ride horseback over the endless plains. But her research takes a detour when she discovers a connection between the body in the coulee and her uncle, who disappeared in the Alberta badlands thirty years ago.
As always, Barbara Fradkin brings the Canadian wilderness to life. Heat radiates off the parched and cracked soil. The searing shades of the green, ochre and rust landscape, the perfect setting for adventure. But murder has its own itinerary, and Amanda plunges headlong into danger as she digs up the past. The prairie heat will burn your fingers as you turn the pages!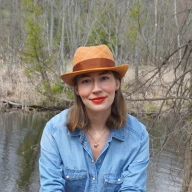 Vanessa is a Canadian crime writer. She is the author of Cover Art and other books. At the heart of all of her stories are strong female protagonists.
Read More About Vanessa Westermann