Nate Hendley was born in New Haven, Connecticut in 1966. His parents moved to Canada when he was two months old. Nate grew up in Waterloo, Ontario. His father was a professor, his mother a librarian. Nate has a degree from Trent University in Peterborough, Ontario and studied journalism at Conestoga College in Kitchener. He currently lives in Toronto. He has a twin brother and younger sister. Nate is a full-time freelance journalist who has written a series of books, primarily in the true-crime genre.
Could you tell us briefly what your latest book is about?
Nate Hendley: My last book, The Boy on the Bicycle: A Forgotten Case of Wrongful Conviction in Toronto, examines the little-known story of Ron Moffatt. Ron was 14 years-old in 1956 when he was wrongly convicted of the murder of a little boy in Toronto, based largely on a coerced confession. Ron was tried and incarcerated, despite a lack of physical evidence against him. Sadly, the real killer (a psychotic young man named Peter Woodcock) murdered two more children in Toronto before authorities realized they jailed the wrong person. Woodcock was caught and institutionalized. Ron was retried and acquitted. While free, he never received compensation for his ordeal or an apology. As Ron was tried as a juvenile, his name was kept out of the press. No one knew who he was and over the years, his case was largely forgotten.
What drew you to the true-crime genre?
NH: To be quite honest, I didn't read a lot of true-crime when I was younger, aside from the classics such as Helter Skelter by Vincent Bugliosi, about the Manson murders. I always wanted to write a book, however. I wrote a few novels in university and beyond, all of them awful. I continued to harbour a desire to publish a book, however. Around 2002 or so, I saw a notice on the email list for PWAC (Professional Writers Association of Canada, a group I belonged to) about an Alberta company named Altitude Publishing that specialized in short, punchy non-fiction. They were expanding east and wanted stories from Ontario and Toronto. A famous Toronto bank robber named Edwin Alonzo Boyd had just died, so I figured that might interest them. I wrote up a proposal for a Boyd book, which Altitude liked. They asked for a chapter summary, which I sent off. A contract ensued. I wrote the book and they asked me to do more. They sent me story topics, many of which were crime related. I wrote books about gangsters Al Capone and Dutch Schultz and other subjects and just kept going.
You've mentioned that you knew the individual who was wrongfully convicted in the case you describe in The Boy on the Bicycle: A Forgotten Case of Wrongful Conviction in Toronto. In what ways can a personal perspective on the subject be a benefit or a challenge for a true-crime writer?
NH: You still have to be objective, which can be tough if you have a personal perspective on an issue or are personally familiar with the subject of your book. When Ron approached me to tell his story, I agreed, with the stipulation that I could ask him tough questions and that he would answer. To his credit, he absolutely lived up to this agreement.
It's important to remember that having a personal perspective on a topic doesn't necessarily make you an expert. When I was a kid, my father was driving in his car when he was hit by a drunk driver. While obviously upsetting for our family, this incident didn't suddenly make us experts on the issue of impaired driving.
While writing The Boy on the Bicycle, what was the most surprising thing you discovered or learned?
NH: When Ron Moffatt was 14 years old in 1956, he was interrogated by Toronto police without a parent, lawyer or guardian present. I was quite surprised to discover it's still legal for police in most of North America to interrogate young offenders in this manner. In Canada, young offenders under 18 have the right to ask for a lawyer (just like their adult counterparts) but it's not mandatory that a lawyer, parent or guardian be in the room with them when police ask them questions. Problem is, many young offenders are too naïve, embarrassed or clueless to realize how important it is to have counsel, or at least, a friendly adult present when talking to police. I think the law should mandate the presence of a lawyer, parent or guardian during official police interrogations with juveniles.
You've been lauded for helping readers understand where famous criminals come from, what their motivations are, and what caused their downfalls. "A good author knows what his characters are carrying in their pockets and what kind of bullets his characters use in their guns." What is your research process like?
NH: I will speak about one aspect of research: interviews. It really helps if you can speak to people who can discuss an event first-hand—who were there, in other words. I just interviewed an 80-year-old man, for example, who worked as an accountant in a bank in the Toronto-area that was robbed in 1964 by a disturbed young man with a semi-automatic rifle. My interview subject actually fired a few shots at the robber with a pistol (decades ago, banks in Canada routinely stocked loaded revolvers and expected staff to use them in case of robbery). This interview will really make my book about the robber come alive.
Your book The Big Con (published in 2016) looks at scam artists such as Bernie Madoff and Charles Ponzi, as well as other forms of deceit. After writing this book, what would be one tip you would give someone on how to avoid being scammed?
NH: If it sounds "too good to be true" it probably is. Also: aside from lottery wins and unexpected inheritances, there are few quick ways to get rich, despite what sleazy investors might claim. And if you receive an email from a jailed Nigerian Prince, offering to share their confiscated fortune with you if only you send them a few bucks to bribe their way out of prison, it's probably a scam. Just a guess.
What strategies do you use to create suspense?
NH: In my true-crime books, I occasionally offer a hint of action to come. I wrote a book about gangster Dutch Schultz, for example, that starts with a prologue in which Schultz is dying from a gunshot wound. Then, I go into his childhood and early years. I leave the reader hanging as to how things resolve, until the very end of the book.
What books have most influenced you as a writer?
NH: On Writing: A Memoir of the Craft by Stephen King was a huge inspiration. While I write non-fiction and King was mostly speaking about fiction, I thought his book offered excellent, practical, no B.S. advice.
Could you describe your typical writing day?
NH: I work at home and follow regular office hours. I make coffee in the morning, check email, read online news then try to start work at 9 am. I do a lot of phone interviews (I work as a freelance journalist, as well as a true-crime author) and discovered years ago that most people work 9 am to 5 pm and are not impressed if you can't return their call before noon because you're sleeping.
I take a short break for lunch and usually work until around 5 pm or so. Sometimes, I break things up and go swimming or biking during the day, then put in extra hours after dinner. If I'm trying to complete a project, I will often work into the evening anyway.
I also work on evenings (yup, even Friday evening) and weekends. If you want to be an author, you have to be willing to put in the time.
What are you currently working on?
NH: I am working on another true-crime story about a young, disturbed man who robbed a bank in the Toronto area in 1964 and killed a wannabe vigilante in the process. His case led to a national debate about gun control, the insanity defense and the death penalty in Canada.
If you could give just one piece of advice to aspiring true-crime writers, what would it be?
NH: Look for the unexplored and unanswered. While there have been a million books about Jack the Ripper, no one has written much about his victims. Last year, an author finally published a book that focused on the women he murdered. It was called The Five and it humanized the Ripper's victims.
Feel free to visit my website: www.natehendley.com for more information about my books and background or my blog at www.crimestory.wordpress.com for the occasional post about crime-related issues.
On the afternoon of Saturday, October 6, 1956, nine-year-old Gary Morris and his friend, eight-year-old William Christie, went to see a matinee at the Regent movie theatre in downtown Toronto. The kids left before the show ended and hung out on the street for a while. They collected some empty soda bottles and exchanged them for candy bars, elastic bands and paper clips. They returned to Morris' house on Queen Street East, got some apples, then stood outside the residence, chatting. Around 3:30 p.m., the boys were approached by "an unknown youth on a bicycle" as a subsequent police report put it.
Morris began talking to the stranger, who looked around 14 – 18 years old and wore a windbreaker with blue jeans. He had dark hair, dark glasses and a red bike.
Christie later told police that Morris and the stranger chatted about shooting pigeons at Cherry Beach on Toronto's waterfront. At the time, Cherry Beach was a dismal stretch of wasteland by Lake Ontario. An October 11, Globe and Mail article called it a "shabby sandy beach" with a "history of crime" including "murders and muggings, rapes and petty thievery."
It's unclear how much Morris knew about Cherry Beach's bad reputation or cared. The boy on the bike said he too was heading to Cherry Beach. Perhaps Morris would like a ride on his handlebars? The little boy eagerly agreed and hopped on and the two biked away. It was the last time Christie saw his friend alive.
---
Visit Nate Hendley on social media!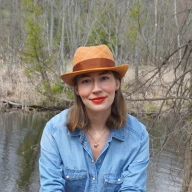 Vanessa is a Canadian crime writer. She is the author of Cover Art and other books. At the heart of all of her stories are strong female protagonists.
Read More About Vanessa Westermann