Kate Rowan, the protagonist of An Excuse For Murder, has a weakness for crime fiction and, as the owner of Fortune's Cove Books, the means to indulge it.
The first thing you see when walking up to Fortune's Cove Books is the window display of summer reads and all those eye-catching covers. Sensational illustrations. Extravagant characters in exotic settings. The books are arranged around a vintage carafe and glass set. The bay window showcases the hard-covered books and allows a glimpse of shelves within.
But why linger outside? Come on in.
The oak floor is lustrous and golden. The shelves seem labyrinthine, forming angles for readers to get lost in. The rows of books are neat, but not perfect, tempting customers to touch them, take one down. Armchairs are tucked here and there, inviting the visitor to sit, open that book, read a page or two or more.
Knickknacks line the shelves. An inkwell and quill. A small ceramic vase, flowers painted on it. An old mantel clock, hands stopped at quarter to twelve. By the cash is a dish of gold-wrapped chocolate coins.
Of course, the bookstore is full of dead bodies, too. They just aren't real. Kate has a well-stocked and carefully chosen collection of crime fiction. Behind every cover is a mystery waiting to be solved.
Kate's key fob is, naturally, in the shape of a tiny book.
5 of My Favourite Bookstores
For more fictional bookshops, check out my GoodReads list of mysteries set in bookstores. And feel free to add to it!
What's your favorite bookstore?
Let me know on Twitter @VanessasPicks or on Facebook!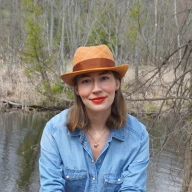 Vanessa is a Canadian crime writer. She is the author of Cover Art and other books. At the heart of all of her stories are strong female protagonists.
Read More About Vanessa Westermann