A case of murder with sweet complications…
Julie Howard is the author of the best-selling Wild Crime and Spirited Quest series. She is a former journalist and editor who has covered topics ranging from crime to cowboy poetry. Now she edits an online anthology, Potato Soup Journal, and spends many delightful hours writing her books.
Could you tell us briefly what Sea Salt Lavender For Aphrodite is about?
Julie Howard: Sea Salt Lavender for Aphrodite is part of the One Scoop or Two series by The Wild Rose Press. Each story in this series is set by a beach and has an ice cream flavor featured in the title. My particular flavor, sea salt lavender, is inspired by a friend's lavender farm. Aphrodite is a creamy white standard poodle who plays a pivotal role in my murder mystery plot.
My main character, Rosella Rivers, has an ice cream food truck and when an acquaintance is murdered on the beach boardwalk, she becomes involved. Detective Mark Pruitt is assigned to solve the crime and is immediately smitten by the charming ice cream vendor. This is a lighthearted cozy mystery.
If you could have lunch with one of your characters, which one would it be and why? And where would you choose to meet for lunch?
JH: I would love to have lunch with Rosella. Her passion is creating unique ice cream flavors and she has an upbeat attitude about life. She's hardworking and a bit of a dreamer too. I would love to hear a few of her recipes as a former pastry chef, and also trade ideas about ice cream flavors. While we would, of course, have some of her ice cream as either appetizer or dessert, we would dine at Crabby Cakes, the food truck with the best crab cakes on the boardwalk.
What kind of research did you do while writing this novel?
JH: This story came easily to me since I could envision small town Olympus Bay, set somewhere south of Monterey, California. I grew up in California and have been to nearly every beach town along its coast. One thing that needed research, however, was the type of lavender that would make a good ice cream. There are dozens of varieties and each has a unique scent and flavor – some wouldn't taste good at all! I settled upon Portuguese lavender after scrolling through many, many choices.
How did you come up with the title to your book?
JH: Sea Salt Lavender for Aphrodite is a mouthful! I considered changing it half a dozen times, but each time found I just couldn't. The title is just perfect for the story. Sea salt lavender is an ice cream flavor that is unique and refers to the ocean; Aphrodite is the standard poodle who plays a large role in the story. Since the story is set in Olympus Bay and the beach features a stone sculpture of Poseidon, my poodle just had to have the name of a goddess. I couldn't think of a better name for her than the goddess of beauty.
Books can transport readers to another world, another place or time. In real life, what's your favorite place to visit and why?
JH: I love both visiting places I've never seen before and old favorites, which is sort of an analogy of my bookshelves. I have my much-beloved classics as well as stacks of yet-to-be read books I can't wait to dive into.
The ocean is one of my favorite places to visit. I enjoy the salty sea air, and the laid-back attitude that usually goes hand-in-hand with beach towns. Ooh, the wonderful feeling of warm sand between my toes and that first tidal rush of cold water over my ankles. And I could stare at the waves for hours.
When I plan a trip farther afield, I prefer to go somewhere I've never been. The more exotic the better. I like to go places where everything is a new experience – the culture, food, flora and fauna, and history. If I'm not learning something when I travel, I'm disappointed.
If you could give just one piece of advice to aspiring writers, what would it be?
JH: Never, never, never give up. If you want to be a writer, keep writing, and don't let the naysayers get into your head. Believe in yourself and your stories. The more you write, the better you will become, so just keep at it.
Here's a sneak peek at Sea Salt Lavender For Aphrodite…
The echo of a drip-drip-drip resonated from within. Rosella glanced around, wishing a man would pass by, someone she could send inside on her behalf. On this side of the structure, though, the beachfront was hidden from view and the building backed by sand dunes. Unless someone needed to use the facilities, they wouldn't approach.
"Mick?"
A distant chime from the town clock made her heart sink. Ten a.m. Opening time. She had to get back to her truck. A fresh round of anxious yips sounded. She scooted to the corner of the building and peeked toward her truck. Aphrodite stood at attention, straining at the leash. The dog barked twice at spotting her and renewed efforts to break free of the tether.
She returned to the doorway. "Mick, I'm just going to step inside since I'm a little bit worried, just to make sure you're okay. Let me know if I shouldn't come in." No response sounded. "All right, coming in."
The odor hit her first. Heavy, sweet, sickening. Then her eyes registered the scene. Mick lay face down in the middle of the tile floor, a steady stream of deep red blood winding its way toward a drain.
---
Visit Julie Howard on social media!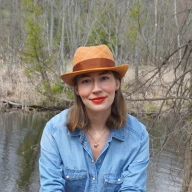 Vanessa is a Canadian crime writer. She is the author of Cover Art and other books. At the heart of all of her stories are strong female protagonists.
Read More About Vanessa Westermann