Capturing a cast of characters and effortlessly combining the supernatural with the height of historical disaster, THE DEEP is an exploration of love and destiny, desire and innocence, and above all, a quest to understand how our choices can lead us inexorably toward our doom.
Alma Katsu is the author of The Hunger, a reimagining of the story of the Donner Party with a horror twist. The Hunger made NPR's list of the 100 Best Horror Stories, was named one of the best novels of 2018 by the Observer, Barnes & Noble, Powell's Books (and more), and was nominated for a Stoker and Locus Award for best horror novel. The Deep is her fifth novel.
Could you tell us briefly what The Deep is about?
Alma Katsu: The Deep is a reimagining of the sinking of the Titanic and its sister ship, the Britannic, with a horror twist. It's the story of Annie Hebbley, a young Irish woman from a family of limited means. She leaves home under unclear circumstances to become a stewardess on the Titanic. She finds herself drawn to a young man, Mark Fletcher, and his infant daughter Ondine.
Shortly after the journey begins, a young boy dies. He's a servant of Maddie Astor, wife to John Jacob Astor (the richest man in America). Maddie is wracked with guilt, because she had insisted he come with them, but is convinced there's something supernatural about his death. Strange happenings start to plague the ship but before they can find out what's behind it, the ship strikes an iceberg—and makes history.
But the story isn't over. Four years later, Annie is a nurse on the Britannic, now converted to a hospital ship for the war. When the ship takes on passengers, Annie recognized Mark Fletcher—but she thought he died when the Titanic sank. Once the pair is reunited, the strange happenings begin again, and Annie is forced to come to terms with her role in the terrible tragedies.
The Deep is also a story of the time in which it took place, which was the end of the Edwardian era. It was a time of glamour, but also a difficult time for woman, before they were able to vote and their lives were quite constrained. It was also a time of great class, and income, disparity, a time where a few dynastic families were very wealthy while the majority were sinking deeper and deeper into poverty. The story may have happened over 100 years ago but there's something very relevant for today.
Does one of your characters hold a special place in your heart? If so, why?
AK: There are a pair of boxers in the book, Dai Bowen and Les Williams. They are real: they were bare-knuckle fighters, and they perished on the Titanic. They were supposed to take an earlier ship but took the Titanic when some suits they had made specially—they expected to need fancy dinner suits to meet with American promoters—took longer than expected. As soon as I started writing their first chapter, the characters came to me immediately, fully formed, like I'd known them all my life. Like they were old friends.
What kind of research did you do while writing this novel?
AK: A lot! It looks like I became rather notorious after my last novel, The Hunger, which was a reimagining of the story of the Donner Party. I got asked so much about my research process that I developed a course for writers on how to research efficiently. I drew on what I learned as a researcher for my day job for over 30 years.
Research for a work of fiction is not the same as for non-fiction, particularly if the non-fiction is intended to be a reference work. Novelists don't necessarily have to be exhaustive. Research should serve the story. That said, I generally pick two books for my primary research works, ones that give me the best grounding in the event itself, and then do a lot of spot research as I write. I take copious notes, almost always in spreadsheets for ease of editing.
[In "Tips For Complex Historical Research", Alma suggests keeping separate sheets in one Excel workbook for characters, background notes, and timelines. She recommends taking notes electronically as this method is "better suited to juggling a complex assortment of facts than notebooks, which tend to force you to think linearly". Do read the post – it's fascinating for writers of any genre!]
While writing your book, what was the most surprising thing you discovered or learned?
AK: In order to figure out which people would take on major roles in the novel, I read short bios on every person on the Titanic, crew and passengers. That's several thousand people. What surprised and amazed me was that every single one of them had some interesting, unique story. You could've written a book about any one of them. Did people live more interesting lives back then? Did they just do more? It was humbling, in a way. Really went to prove that old adage that every person is his or her own universe.
When it comes to plotting your novels, do you have the whole book outlined before you write? Do you use any specific strategies or techniques?
AK: I have the entire book outlined before I start but it doesn't matter. Things always have to be changed once the writing starts. A plot point isn't working, or a character isn't quite right, or a better idea comes up, something that will startle and delight readers. There's anywhere from 100-200 pages that end up not being used. At least for me, all my books undergo a lot of revisions before they get to the finished product. A good part of that is due to my editor, who has an incredible eye and can come up with ways to make an ordinary story extraordinary. I'm very lucky.
Visit Alma Katsu on social media!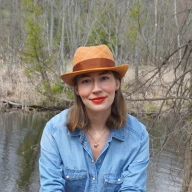 Vanessa is a Canadian crime writer. She is the author of Cover Art and other books. At the heart of all of her stories are strong female protagonists.
Read More About Vanessa Westermann