THE MASTER OF SUSPENSE MYSTERY.
–Associated Press
New York Times bestseller Phillip Margolin returns with A REASONABLE DOUBT, a new legal thriller in which a magician linked to three murders and suspicious deaths years ago disappears in the middle of his new act.
The author of over twenty novels, including GONE BUT NOT FORGOTTEN, LOST LAKE, and VIOLENT CRIMES, Margolin lives in Portland, Oregon. In addition to being a novelist, he was a criminal defense attorney with decades of trial experience, including a large number of capital cases.
Could you tell us briefly what A Reasonable Doubt is about?
Phillip Margolin: In A Reasonable Doubt, Robert Chesterfield, a magician is murdered on stage while performing "The Chamber of Death," his greatest illusion, in front of 3000 people, and no one can figure out who killed him.
Does one of your characters hold a special place in your heart? If so, why?
PM: Seated in the audience is one of my favorite characters. Robin Lockwood, Chesterfield's lawyer. Robin worked her way through Yale Law School fighting on TV in pay-per-view mixed martial arts contests. She's the heroine of my new series, which includes The Third Victim and The Perfect Alibi. She's wicked smart and really tough.
What kind of research did you do while writing this novel?
PM: I had the most fun ever researching this book. I love magic and I had to learn how to do a major stage illusion. I had help from two lawyer/magicians in Portland. My other challenge was figuring out how you could kill someone who is on stage in front of 3000 people and disguise the identity of the killer.
When writing a series how do you keep things fresh, for both your readers and yourself?
PM: I keep my series fresh by writing each book as if it was a stand alone. I've written 23 books but I have tried to make each plot unique. When I write a book, the first thing I do is get an idea. Then I think about it - sometimes for years - until I come up with a satisfying ending. Then I spend one to three months writing an outline that usually ends up being around 25 pages. When the outline is done, I have the whole book written in shorthand. I then take each paragraph and turn it into a chapter. It takes six to eight months to write my first draft. The end result is not publishable and is more like a 400 page outline. Then I spend several months rewriting for quality. The most challenging part of writing for me is getting an idea that is interesting and complex enough to fill up a 400 page book.
Could you describe your typical writing day?
PM: I practiced criminal defense for 25 years, during which I argued at the United States Supreme Court and handled 30 homicide cases, including several death penalty cases at the trial and appellate level. When I retired in 1996 to write full-time, I kept my law office. I usually get to it at 7:30 armed with a grande, non-fat, caramel latte. I do the New York Times crossword puzzle, check my emails then get to work. I quit around 11:00 to workout, grab some lunch then write until 3:30 or 4. I don't work on the weekend.
What books have most influenced you as a writer?
PM: Ellery Queen and Erle Stanley Gardner are the two writers who influenced me the most. After reading Gardner's Perry Mason novels in elementary school I decided that the only thing I wanted to do when I grew up was try murder cases. Ellery Queen is the king of the fair play mystery. His mysteries have clues. If you spot them, you can figure out whodunnit. I try to put clues in my books to make them more fun and all my books have a murder and a lawyer.
If you could give just one piece of advice to aspiring writers, what would it be?
PM: The one piece of advice I would give to aspiring writers is to think and not write when you get an idea. Work it through in your head until you know how your book will end. Don't rush to write.
Readers can find out more about Phillip Margolin at phillipmargolin.com or connect with him on Facebook.
Author Photo Credit: Anthony Georgis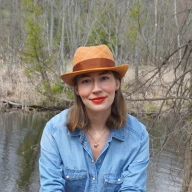 Vanessa is a Canadian crime writer. She is the author of Cover Art and other books. At the heart of all of her stories are strong female protagonists.
Read More About Vanessa Westermann