Kathleen Marple Kalb grew up in front of a microphone, and a keyboard. She's currently a weekend morning anchor at 1010 WINS New York, capping a career she began as a teenage DJ in Brookville, Pennsylvania. She, her husband, and son live in a Connecticut house owned by their cat.
Her debut Ella Shane mystery, A Fatal Finale will be published by Kensington Books on April 28, 2020. A swashbuckling opera singer investigates a young colleague's death with help from her colorful friends and a mysterious duke, culminating in a dramatic duel with the killer.
Could you tell us briefly what A Fatal Finale is about?
Kathleen Marple Kalb: A FATAL FINALE is the debut of Ella Shane, a swashbuckling Gilded Age opera singer who specializes in male "trouser roles." Ella, an Irish-Jewish Lower East Side orphan made good, is playing Romeo when her Juliet drops dead onstage, and she investigates the death with the help of her colorful friends and a mysterious British duke, culminating in a duel with the killer on a catwalk high above the stage.
If you could have lunch with one of your characters, which one would it be and why? And where would you choose to meet for lunch?
KMK: Ella would never do this, but I'd probably go to the pub with Ella's cousin, manager and best friend Tommy Hurley, their informal uncle, sports columnist Preston Dare, and the rest of the writers. It would be tons of fun, and Tommy and Preston would keep me safe, just like they do Ella.
Does one of your characters hold a special place in your heart? If so, why?
KMK: Besides Ella, who is about 80-percent me, 15-percent Anne of Green Gables, 15-percent Beverly Sills – and 5-percent Errol Flynn, there's Tommy. He's named for, and inspired by, the standup guys in my families of blood and choice. Plus, he's a former boxing champ, smart as they come, self-educated, and "not the marrying kind." That means exactly what you think it does, but in 1899, nobody would think a former boxing champ was a "sissy," and many families actually had a "brother who didn't marry." He's just a great guy, and nobody asks questions they don't want answered. I like that modern readers will have no trouble understanding that he's gay – and that he has as happy a life as anyone else.
What kind of research did you do while writing this novel?
KMK: The setting is close to where I work at 1010 WINS, and I spent a lot of time walking around the Washington Square Park neighborhood laying out where Ella lives, and other sites, most of which actually still exist. As for the period, I was a history major in college, many years ago, and I've always read a lot about the Gilded Age and the Tudor courts (Ella is reading a library book on Anne Boleyn during much of FINALE). I did have to track down a lot of specifics I'd never imagined, from what her charm bracelet would look like, to what poison might have killed Juliet. I also have to tip my cap to Kensington's copy editor, who caught several major mistakes. I went in plenty humble about the writing, but not nearly humble enough about language and historic details…and she saved me from some howlers.
While writing your book, what was the most surprising thing you discovered or learned?
KMK: It's hard to find a good generic insult in Scots Gaelic. The Duke and his family are a border clan, and his mother – whom we meet in a later installment – is Highland Scots, so he and his cousin use a few Gaelic words, including that very important insult. But most Scots Gaelic insults are gendered in some way, and I needed something – for plot reasons I can't disclose – that would cover either a male or a female. I finally settled on nathrach, which means snake.
How did you come up with the title to your book?
KMK: I needed something that sounded like a mystery – early working titles used the word "Diva," which to me is just a description of Ella's job, but to some people implies a certain kind of woman that she definitely is not. So I started noodling around with words that imply murder and words that suggest music, and A FATAL FINALE was born.
What characteristics make Ella a strong heroine?
KMK: Ella is a survivor. She was born Ellen O'Shaugnessy, the daughter of an Irish father and Jewish mother on the Lower East Side, at a time when interfaith marriage was extremely rare. Her father barely lived to hold her, her mother survived until she was eight by scraping together piecework while dying of consumption. Ella would have ended up in Potter's Field too if her Aunt Ellen, Tommy's mother, hadn't taken her in. And she'd be a washerwoman if the right person hadn't heard her singing while she was cleaning with her aunt. She knows how lucky she is – and does her best to share her good fortune, and take care of others. Ella is also guided by her mother's strong Jewish principles in treating people well; the whole reason she starts investigating Juliet's death is that she feels she did not do right by the girl.
How much 'world building' takes place before you start writing?
KMK: In Ella's case, I spent a lot of time walking around Washington Square Park and thinking about the neighborhood and how I might write something set there – and I still scout out sites. On other projects, I often just get in and start writing…as the ideas and characters start coming together, I do a lot of revising. For me, the setting is a character too, and you have to make people want to come spend time there.
When writing a series how do you keep things fresh, for both your readers and yourself?
KMK: I hope I get to have this problem! So far, Ella and the crew have evolved very well as we go along, and everyone's lives are moving in interesting directions, so keeping it fresh isn't really an issue. As a reader, I love series because I can find out what's happening in the lives of all of these characters I like, and I try to do that as a writer. I hope you'll come back as much to find out whether Preston is still flirting with Ella and Tommy's cook, and whether their newspaper reporter friend Hetty is finally off the hats beat.
When plotting a crime, where do you get your inspiration?
KMK: It's not so much positive inspiration as negative. Under no circumstances do I want to write a story that would cross my desk in the newsroom. So you will never see police blotter stuff in my work. You won't see many guns either. What you will see is ingenious things. In FINALE, Juliet is killed by real poison in her prop vial. In Ella's next outing, someone does die gruesomely…but what seems like an obvious crime absolutely isn't.
When it comes to plotting your novels, do you have the whole book outlined before you write? Do you use any specific strategies or techniques?
KMK: I hate the term, because it sounds like something that happens in the books my medium-size son reads, but I'm a pantser. I start flying by the seat of my pants: write the opening to get the main character's voice, and the end for where we end up. Then I do start getting plotty. How do we get there? How can we sneak something by that you won't see until the end? Most writers hate them, but I write a synopsis very, very early. It's a great road map. You can always change it, but it points you somewhere.
What's your typical writing day like?
KMK: I have two typical days: most weekdays, I'm a mom. I do the school run, drop the Imp off, and come home to write. Weekends are different: I'm an anchor. I leave the house Friday night, take the train into the city, anchor morning drive at 1010 WINS, walk to Grand Central, get home mid-afternoon Saturday, sleep a couple hours, and get up to do it all again on Sunday. Sometimes Monday too. If I get a great idea when I'm working in the City, I scribble something on the train, email it to myself and maybe get some time at home later…or save it for the weekday. It works.
What books have most influenced you as a writer?
KMK: Anything by Frank Deford and Roger Kahn. Sports, yes, but sports WRITERS! Linda Ellerbee's memoirs, again great writing and inspiration for a journalist. Mysteries: Barbara Michaels/Elizabeth Peters. Reading her Emerson and Peabody series as a kid put historical mystery on my radar.
What do you find to be the most challenging part of writing?
KMK: Finding the time to do it! I'm sitting here right now giving the Imp extra screen time, with the cat climbing up one side of me – and the Professor walking past asking about some very important thing I have to do for him. Seriously, it does sometimes come down to sleep or write…and you'll find me at the laptop at 5 am.
Books can transport readers to another world, another place or time. In real life, what's your favourite place to visit and why?
KMK: The San Francisco Bay Area. Beautiful scenery, wonderful people, good energy, and some of my most beloved family members.
If you could give just one piece of advice to aspiring writers, what would it be?
KMK: Do the work. Magic happens but you'd better be ready when it does. I say that after 200+ rejections across three different projects, and as someone who wrote a bunch of those query letters sitting in waiting rooms in hospitals I never expected to visit. You can't give up – and you can't give people a reason to weed you out.
Readers can visit Kathleen Marple Kalb at kathleenmarplekalb.com or follow her on Facebook, Twitter @KalbMarple or Instagram @kathleenmarplekalb.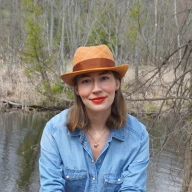 Vanessa is a Canadian crime writer. She is the author of Cover Art and other books. At the heart of all of her stories are strong female protagonists.
Read More About Vanessa Westermann