When Is A Wrong Turn A Right Turn?
By Ginger Bolton
Most of my research for the Deputy Donut Mysteries involves playing around the internet or making donuts and gooey things that go into and onto them.
And then there's the accidental research.
Like Rich Royalson, nicknamed perhaps unfairly as the Boston Screamer in Boston Scream Murder, I am quite fond of Boston and New England.
So, in a way, that trip to Maine was a research trip. There would be ocean vistas, seafood, rocks, seafood, tides, beaches … and did I mention seafood? Oh, and other goodies, too, like Boston Cream Pie. So that was the sort of research I expected to do—some of it planned, some of it unplanned, like simply absorbing atmosphere.
And then we made a wrong turn in Bennington, Vermont.
Okay, now I have to digress a little and tell you about the Deputy Donut Mystery series. Emily Westhill is a young widow who runs a donut shop with her father-in-law Tom Westhill, the retired chief of the Fallingbrook, Wisconsin, police department. Emily was once a 911 operator, and her late husband was a detective. Emily and Tom know lots of police officers and other first responders, and their shop caters to them along with other interesting (you know, villains, victims, suspects, witnesses …) people, which is very useful to an amateur sleuth like Emily. The shop, which is named after Emily's cat, has a delivery vehicle, a 1950 Ford Fordor (that's what Ford called the four-door model; the two-door model was very cutely and very 1950ishly named the Tudor.) I chose to give Tom and Emily a 1950 Ford because some of the fancy chrome stuff in the front (that must be the technical term) resembles a donut.
I researched the car online and discovered that the 1950 Fordor was popular with police departments! Even better.
Emily and Tom customized their Fordor by putting their logo on the doors and adding a giant plastic donut lying flat on the roof. (It can't be standing up. Emily and Tom might have trouble driving underneath bridges. This is the sort of thing writers ponder when you think we're writing.) Small colored lights serve as the sprinkles on the plastic donut's white plastic icing and also as the strobes in the light bar of a real police car. Well, sort of.
A megaphone-shaped speaker in front of the giant donut can broadcast a siren, music (the lights can be programmed to flash to the rhythm) or the driver's voice yelling, "Buy donuts!" or "I'm onto you, you vile murderer!" or whatever else she wants to announce.
So. That's Emily and Tom's car, and I mostly made it up while gazing at and mooning over amazing vintage photos and owners' manuals on the internet.
And then we made that wrong turn in Bennington …
I'm averse to turning around. Not a problem! You know that person in the phone who tells you where to go? We call ours Bossy Bessy. Bossy Bessy told us we could keep going and we'd end up where we wanted to go, only she said it in a bossier way. She's like that.
So, we kept going. And then, there by the side of the road was the headquarters of the Bennington County Sheriff's Department. And in front of the building was a 1950 Fordor police car …
By the time I came out of my swoon, we were farther down the road, still following Bossy Bessy's instructions.
As I said, I'm averse to turning around (which was part of what got us there in the first place), but I realized this was too wondrous a find to bypass.
We spent the next twenty minutes photographing a gorgeous 1950 Ford Fordor police cruiser.
Can you fall in love with a car?
I think so.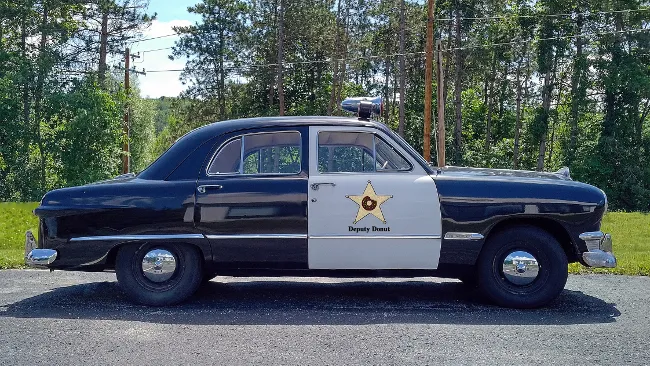 Here's a sneak peak at Boston Scream Murder…
Chapter One
Even from the kitchen in the back of Deputy Donut, the three of us could hear the man at a table near one of our café's front windows. "Boston is the best city on earth!" he boomed. "You can get fresh seafood anytime, day or night. And I mean fresh. Not like here in Wisconsin."
Boston. I had to smile. Tom Westhill, Nina Lapeer, and I were making Boston cream donuts, but Halloween was only five days away, so we were calling them Boston scream donuts. Spreading fudge frosting on one, I mentally defended our town. Fallingbrook wasn't on an ocean, but the north woods near the Great Lakes had other advantages. I muttered to Nina, "That new customer should try fresh Lake Superior yellow perch. Or whitefish."
Nina cast a sideways grin down at me. With the rounded tip of a wooden spoon's handle, she made indentations resembling frightened eyes in the fudge frosting on a Boston scream donut. "Who is he, Emily?" The longest eyelashes I'd ever seen framed her brown eyes. Her spiky dark brown hair was mostly hidden underneath her Deputy Donut hat, a police hat with a fuzzy donut where the badge would be on a real police hat.
"From the sound of things, he's the Boston Screamer."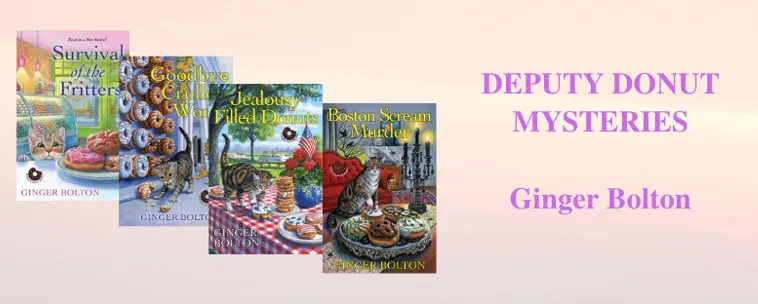 Ginger Bolton
Ginger Bolton writes the Deputy Donut mystery series—coffee, donuts, cops, danger, and one curious cat … The third Deputy Donut Mystery, Jealousy Filled Donuts, came out in August 2019 and was chosen as the Woman's World Best New Cozy Mystery of the week. It was also named as one of Dollycas's Best Reads of 2019. BOSTON SCREAM MURDER will be on store shelves in September 2020. Three more Deputy Donut Mysteries are in the works. When Ginger isn't writing or reading, she's crocheting, knitting, sewing or generally causing trouble. She's also fond of donuts and coffee. As Janet Bolin, Ginger wrote the Threadville Mysteries—murder and mayhem in a village of crafty shops.
---
Visit Ginger Bolton on social media!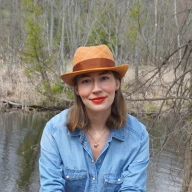 Vanessa is a Canadian crime writer. She is the author of Cover Art and other books. At the heart of all of her stories are strong female protagonists.
Read More About Vanessa Westermann