Have you ever wanted to invite an author to visit your book club? Now you can!
The Author's Book Club is an initiative that connects readers and authors across Canada. Created by two Canadian authors and a teacher-librarian, the website is a resource for book clubs and already has more than 40 authors involved. The aim is to encourage readers to embrace works by Canadian and Indigenous authors.
I would love to meet with your reading group. Send me an email to arrange a visit virtually or in-person.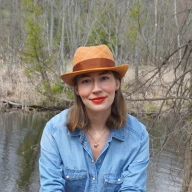 Vanessa is a Canadian crime writer. She is the author of Cover Art and other books. At the heart of all of her stories are strong female protagonists.
Read More About Vanessa Westermann