The Mesdames of Mayhem are in perfect harmony In The Key of 13: An anthology of music and murder. The focal point of every story in this anthology is music. The theme and tone of the stories riff on the style and tone of various musical genres. The story featuring punk rock revolves around drugs and sex. "Requiem" is about the comfort tradition provides, even in the face of a trauma that is underscored by a Mozart concerto. "Moonlight Sonata" features a moonlit showdown on a balcony, while other stories replicate the haunting madness of a "Brainworm" or show what happens the day the music dies and you have to "keep schtum". The stories build to a crescendo and I found myself turning the pages, eager to find out how music would be entwined with the next crime. The reader is sure to be left applauding.
I received an ARC from the publisher, in exchange for my honest feedback.
Giveaway: Carrick Publishing is giving away one (1) print copy of In The Key of 13: An anthology of music and murder, limited to Canadian residents. Enter using the Rafflecopter box below or click HERE for your chance to win. Contest ends February 17th, 2020. Good luck!
The giveaway is now closed and the winner has been contacted. Congratulations!
To "Meet The Women Who Love Murder", watch the CBC documentary, and find out what inspires the Mesdames of Mayhem…
Disclaimer: This blog was not compensated, nor is responsible for prize Giveaway begins 12/02/2020 at 12 am EST and ends 17/02/2020 at 12 am EST. Canadian residents only. One winner will be chosen randomly via Rafflecopter. The winner has 48 hours to respond to the congratulatory email. If the winner does not respond, a new winner will be randomly chosen from Rafflecopter. Twitter is in no way affiliated with this giveaway. Prize provided by Carrick Publishing.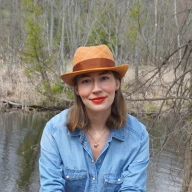 Vanessa is a Canadian crime writer. She is the author of Cover Art and other books. At the heart of all of her stories are strong female protagonists.
Read More About Vanessa Westermann