The Versatile Writer is a creative writing podcast that features "hints, tips and informal interviews with authors and other industry professionals during broadcasts of Writer's Block Local Radio Show, literary events and book fairs." Well worth a visit for any bookworm!
I'm thrilled about the wonderful review of An Excuse For Murder, featured on the December 9th, 2019 episode.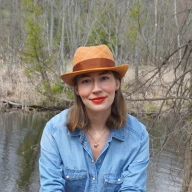 Vanessa is a Canadian crime writer. She is the author of Cover Art and other books. At the heart of all of her stories are strong female protagonists.
Read More About Vanessa Westermann