Friday July 3rd, 2020
7:00 PM - 8:00 PM (GMT+2)
online event

Free admission
The Munich Readery is a lovely English secondhand bookshop in Munich, Germany. Before the world changed so drastically, I was planning to give an author talk there in March. While we had to cancel the in-store event, the Munich Readery will be hosting a virtual event via Zoom instead. On July 3rd, I'll be reading from An Excuse For Murder and discussing my publishing journey. I hope you can join us!
Find out more about The Munich Readery on their website readery.de or like them on Facebook.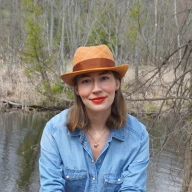 Vanessa is a Canadian crime writer. She is the author of Cover Art and other books. At the heart of all of her stories are strong female protagonists.
Read More About Vanessa Westermann