An Unforgettable Book Gift: Murderess Ink
To start off the holiday guest post series, I thought I would describe my own unforgettable book gift.
The year I discovered the world of mystery-specialty bookstores, my parents gave me a copy of Murderess Ink: The Better Half of the Mystery by Dilys Winn for Christmas.
Dilys Winn founded Murder Ink, the first bookstore devoted entirely to the crime genre. Murderess Ink was Winn's second guide to the mystery (Murder Ink was the first), and sets out to prove that women "are found dead as often as men, make just as many wisecracks as men, drink just as much booze as men, and that, in the final analysis, the female is not only deadlier than the male, but wackier." Murderess Ink includes entries about Golden Age house parties, how to knit a noose, a peek into Sayers' Closet, what if Watson was a woman, and many more witty and deliciously devious essays on the evolution of female writers and protagonists, through to 1979.
It's obvious from the first page that Murderess Ink was written by someone who savored "a murder a day", in the "privacy of [her] reading chair". Filled with expertise, humour and passion, it's an homage to the genre, to female writers, as well as to the specialty knowledge independent bookstore owners have to offer. After reading Dilys Winn's book from cover to cover, I had compiled a list of female crime writers to add to my TBR pile.
In my copy is a note from my mom: "Merry Christmas to our 'Mystery Gal'." And so, there's really no mystery as to why my debut crime novel, An Excuse For Murder, features an independent bookstore owner as protagonist.
While Murderess Ink is out of print, used copies can still be found and, in the words of Dilys Winn, is sure to provide "a stock of reading matter to set a mystery heart palpitating".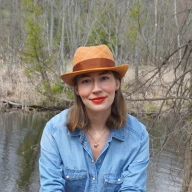 Vanessa is a Canadian crime writer. She is the author of Cover Art and other books. At the heart of all of her stories are strong female protagonists.
Read More About Vanessa Westermann