For a bookworm, there's nothing better than being gifted a carefully chosen book. The problem is choosing one they haven't read yet! As a fellow mystery addict, I've compiled a list of my favourite crime novels set in bookstores and libraries. Hopefully you'll find some inspiration here. Rest assured, you can't go wrong with a murder among books…
Death's Autograph by Marianne Macdonald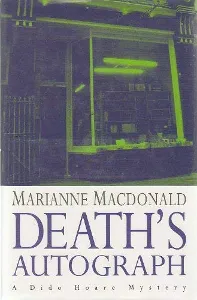 Selling rare books has its moments, but few are anything close to thrilling—except when Dido Hoare's scoundrel of an ex-husband suddenly reappears and puts a pulse of excitement in the air.But events go from interesting to intense when someone ends up murdered and the culprit seems to think Dido has something worth killing for, too.
With the help of her father, Barnabas, a retired academic with a penchant for mysteries, Dido may be able to divert the killer long enough to figure out who wants her dead and why. Recovering from a heart attack, the irrepressible Barnabas is taking chances that are likely to give Dido a coronary of her own, and give the police a bad case of indigestion. But as Dido and Barnabas are about to learn, every crime has its victims and its payoffs—it's just a matter of being on the right side of the bookshelf before everything comes tumbling down.
Word to the Wise by Jenn McKinlay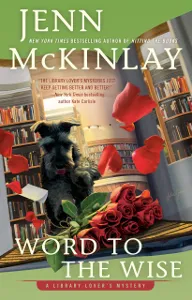 Lindsey Norris is finally getting married to the man of her dreams—but it's not all roses for Briar Creek's beloved library director, as gardening enthusiast and town newcomer Aaron Grady gives the term "book lover" a whole new meaning. Inappropriate looks and unwelcome late-night visits to Lindsey's house have everyone from the crafternooners to Lindsey's fiancé, Sully, on edge.
When Grady's dead body is found staged outside the library and all the clues point to Sully, Lindsey knows it's up to her to dig through the hidden chapters of Grady's previous life to find the real culprit and clear Sully's name. But becoming a thorn in the killer's side is not without its consequences, and the closer Lindsey gets to the truth, the more determined the murderer is to make her just a footnote.
This is #10 in the Library Lover's Mystery series, but newcomers can easily start here and work their way back!
The Bodies In the Library by Marty Wingate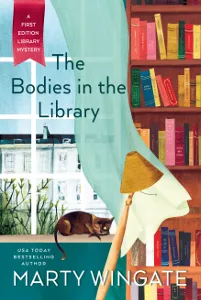 Hayley Burke has landed a dream job. She is the new curator of Lady Georgiana Fowling's First Edition library. The library is kept at Middlebank House, a lovely Georgian home in Bath, England. Hayley lives on the premises and works with the finicky Glynis Woolgar, Lady Fowling's former secretary.
Mrs. Woolgar does not like Hayley's ideas to modernize The First Edition Society and bring in fresh blood. And she is not even aware of the fact that Hayley does not know the first thing about the Golden Age of Mysteries. Hayley is faking it till she makes it, and one of her plans to breathe new life into the Society is actually taking flight—an Agatha Christie fan fiction writers group is paying dues to meet up at Middlebank House.
But when one of the group is found dead in the venerable stacks of the library, Hayley has to catch the killer to save the Society and her new job.
An absolutely fabulous and well-written cozy mystery. Pair this with a copy of Agatha Christie's The Body In the Library!
Homicide in Hardcover by Kate Carlisle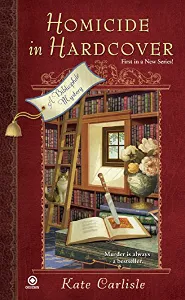 Brooklyn Wainwright is a skilled surgeon. Sure, her patients might smell like mold and have spines made of leather, but no ailing book is going to die on her watch. The same can't be said of Abraham Karastovsky, Brooklyn's friend and former employer.
On the eve of a celebration for his latest book restoration, Brooklyn finds her mentor lying in a pool of his own blood. With his final breath Abraham leaves Brooklyn with a cryptic message, "Remember the Devil," and gives her a priceless—and supposedly cursed—copy of Goethe's Faust for safe-keeping.
Brooklyn suddenly finds herself accused of murder and theft, thanks to Derek Stone, the humorless—and annoyingly attractive—British security officer who found her kneeling over the body. Now she has to read the clues left behind by her mentor if she is going to restore justice…
Death on Demand by Carolyn G. Hart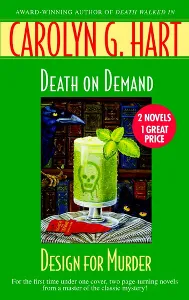 At Annie Laurance's Death On Demand bookstore on Broward's Rock Island, South Carolina, murder most foul suddenly isn't confined to the well-stocked shelves. Author Elliot Morgan's abrupt demise during a weekly gathering of famous mystery writers called the Sunday Night Regulars is proof positive that a bloody sword is sometimes mightier than a brilliant pen.With Annie in the unenviable position of primary police suspect, the pretty young mystery maven and her wealthy paramour, Max Darling, embark on an investigation into a classic locked-room mystery with high stakes. For failing to unmask a brutal and ingenious killer could mean prison for Ms. Laurance. While success could mean her death.
An Excuse For Murder by Vanessa Westermann
As a former bodyguard, it should be easy for Gary Fenris to kill, especially when the motive is revenge. But Gary has made two mistakes in his life. The first was letting the woman he loved die on his watch. The second was thinking vengeance could bring him peace.
Local bookstore owner and amateur lock pick Kate Rowan loves nothing more than a good mystery. Her curiosity soon leads her down a trail of blackmail, obsession and death. Despite the risk - or maybe because of it - Gary finds himself drawn to Kate. When danger strikes, Gary is forced to face the fact that he used love as an excuse for murder. And he's got one last score to settle.
The Secret, Book & Scone Society by Ellery Adams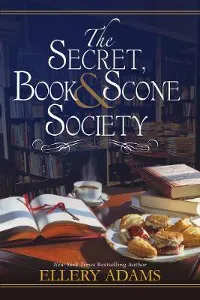 Miracle Springs, North Carolina, is a place of healing. Strangers flock here hoping the natural hot springs, five-star cuisine, and renowned spa can cure their ills. If none of that works, they often find their way to Miracle Books, where, over a fresh-baked "comfort" scone from the Gingerbread House bakery, they exchange their stories with owner Nora Pennington in return for a carefully chosen book. That's Nora's special talent—prescribing the perfect novel to ease a person's deepest pain and lighten their heaviest burden.
When a visiting businessman reaches out to Nora for guidance, she knows exactly which novels will help. But before he can keep their appointment at Miracle Books, he's found dead on the train tracks.
Stunned, Nora forms the Secret, Book, and Scone Society, a group of damaged souls yearning to gain trust and earn redemption by helping others. To join the society, members must divulge their darkest secret—the terrible truth that brought each of them to Miracle Springs in the first place.
Determined to uncover the truth behind the businessman's demise, the women meet in Nora's cramped and cozy bookstore to share stories and trade support. And as they untangle a web of corruption, they also discover their own courage, purpose, and a sisterhood that will carry them through every challenge—proving it's never too late to turn the page and start over …
Lending a Paw by Laurie Cass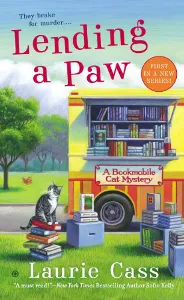 Eddie followed Minnie home one day, and now she can't seem to shake the furry little shadow. But in spite of her efforts to contain her new pal, the tabby sneaks out and trails her all the way to the bookmobile on its maiden voyage. Before she knows it, her slinky stowaway becomes her cat co-pilot!
Minnie and Eddie's first day visiting readers around the county seems to pass without trouble—until Eddie darts outside at the last stop and leads her to the body of a local man who's reached his final chapter.
Initially, Minnie is ready to let the police handle this case, but Eddie seems to smell a rat. Together, they'll work to find the killer—because a good librarian always knows when justice is overdue.
Booked to Die by John Dunning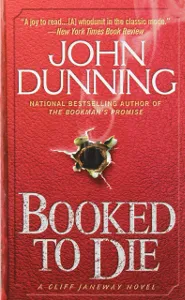 Denver homicide detective Cliff Janeway may not always play by the book, but he is an avid collector of rare and first editions. After a local bookscout is killed on his turf, Janeway would like nothing better than to rearrange the suspect's spine. But the suspect, local lowlife Jackie Newton, is a master at eluding the law, and Janeway's wrathful brand of off-duty justice costs him his badge.
Turning to his lifelong passion, Janeway opens a small bookshop — all the while searching for evidence to put Newton away. But when prized volumes in a highly sought-after collection begin to appear, so do dead bodies. Now, Janeway's life is about to start a precarious new chapter as he attempts to find out who's dealing death along with vintage Chandlers and Twains.
Strangled Prose by Joan Hess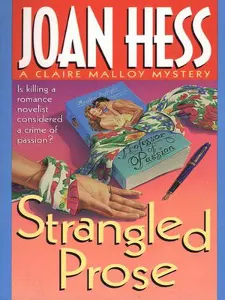 Professor of Passion, the smutty new romance from Mildred Twiller—a.k.a. Azalea Twilight—isn't the kind of book Claire Malloy likes to hock at her bookstore, but Claire agrees to host a book party for her friend's trashy tale. As torrid as the novel is, it's nothing compared to the evening. After the party, poor Mildred is found dead in her home—strangled with a tightly knotted silk scarf. Now it's up to Claire to find Mildred's killer, and it won't be easy—the two-bit author had offended nearly every faculty member she worked with at nearby Faber College. But who could have hated Mildred with such smoldering passion?
Murder is Binding by Lorna Barrett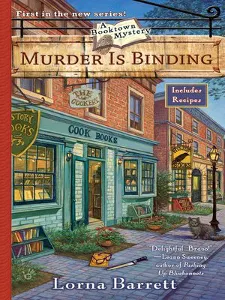 The streets of Stoneham, New Hampshire, are lined with bookstores…and paved with murder.
When she moved to Stoneham, city slicker Tricia Miles met nothing but friendly faces. And when she opened her mystery bookstore, she met friendly competition. But when she finds Doris Gleason dead in her own cookbook store, killed by a carving knife, the atmosphere seems more cutthroat than cordial. Someone wanted to get their hands on the rare cookbook that Doris had recently purchased-and the locals think that someone is Tricia. To clear her name, Tricia will have to take a page out of one of her own mysteries-and hunt down someone who isn't killing by the book.
A Killer Read by Erika Chase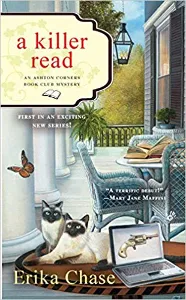 For the first meeting of the Ashton Corners Mystery Readers and Cheese Straws Society, six friends gather in Molly Mathews's old Southern mansion-including Lizzie Turner, a reading specialist with a penchant for mysteries. But the mystery book club meeting becomes the scene of an actual murder when a stranger is shot—and nobody knows who the victim is, or how Molly's antique gun came to be used as the murder weapon.
Then Lizzie begins finding mysterious manuscript chapters in her mailbox. As she and the book club members try to read between the lines, Molly surfaces as the next name on the killer's list…
This book list can also be found on GoodReads. Feel free to add to it!
Note: Jacket blurbs taken from GoodReads.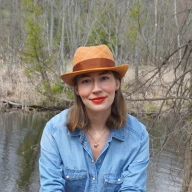 Vanessa is a Canadian crime writer. She is the author of Cover Art and other books. At the heart of all of her stories are strong female protagonists.
Read More About Vanessa Westermann