Essie Lang is the Agatha-award nominated author of the Castle Bookshop Mysteries. The prolific crime writer has penned other cozy mystery series under the names Linda Wiken and Erika Chase, including the Ashton Corners Book Club Mysteries and the Dinner Club Mysteries. Essie is also a member of the Ladies Killing Circle, which has produced seven anthologies of short stories, the latest titled Going Out With A Bang.
For 14 years, Essie owned the mystery specialty bookstore Prime Crime Books in Ottawa ON, which closed in 2010. She also volunteered with the Ottawa Police Service for over 15 years and says she "developed a strong, sometimes scary interest in police procedurals". What a perfect background for a crime writer!
Death on the Page, the latest in the Castle Bookshop Mysteries, will be published by Crooked Lane Books on March 10th, 2020. I got a sneak peek and couldn't put it down! Thousand Islands bookstore owner Shelby hosts a signing for true crime author, Savannah Page. The author rounds off her event at the store by spending a night in Blye Castle, to research the topic of her next book. A prohibition-era mobster owned the castle and it's rumoured that his ghost still haunts the grounds. In an Agatha Christie style plot, Savannah's body is discovered the next morning, in a secret passage. The only other person there that night was the butler…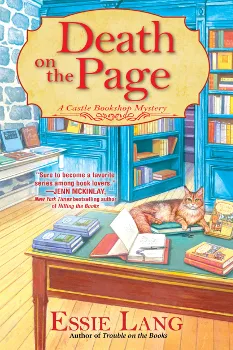 There's no better place in the world than a bookstore. Shelby Cox is a former editor turned rookie bookstore owner, and she certainly has challenges to face! Does Bayside Books share any similarities with Prime Crime Books, the bookstore you owned?
Essie Lang: There are a lot of similarities between Bayside Books, the bookshop in Blye Castle, and my own shop, Prime Crime Books. It starts with the size and decor. Small and cozy with green walls and comfy chairs. Even the layout is similar except, Prime Crime was totally mysteries and crime fiction whereas Bayside Books is a general bookstore. I tried to use the daily routines from Prime Crime when I was writing the scenes that take place in the books. Also, Prime Crime was part of a small community where all the shopkeepers knew each other, and there were many regular customers who patronized us all. I try to instill that flavor in the mainland branch of Bayside Books, in particular. It was fun "reliving" my life as a bookseller while writing the Castle Bookshop Mysteries.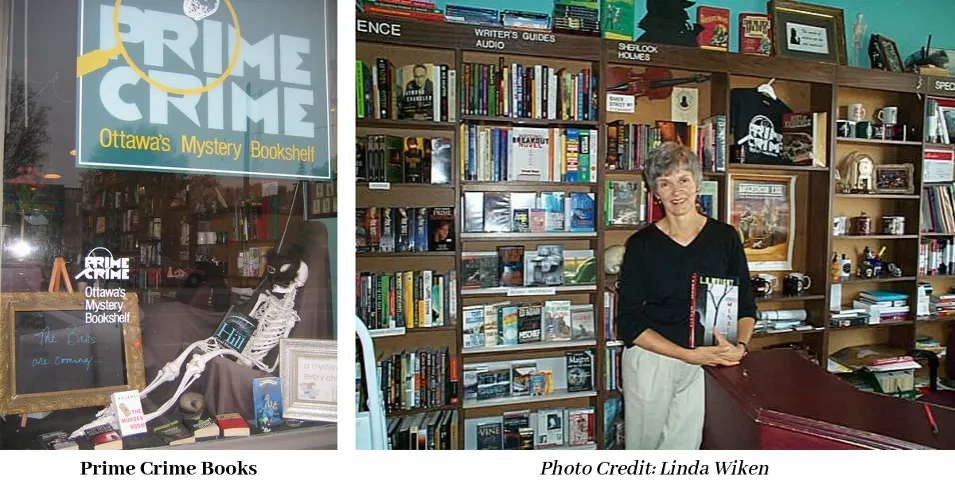 As a bookseller, what was your most memorable day on the job?
EL: The most memorable, even though there were so many over the years, had to be the Saturday we held the Great Glebe Gumshoe Game. The store was located in a trendy area in Ottawa, called the Glebe. We had a fellow mystery author friend write a script for a murder to take place in the pub next door. Then we enlisted a cast of actors from our friends, along with the neighborhood cop to play himself. Many local businesses came on board and we were able to plant clues in their stores. Customers paid $5 to be a gumshoe and play the game and got a passport listing the participating stores. They were invited to an early morning coffee at the pub, where the crime took place in front of their eyes (well, almost). Our cop arrived on the scene and assembled some initial clues, then the "gumshoes" set out around the neighborhood to gather the others. We all assembled at noon in the atrium of the local mall where ballots were cast as to whodunnit. The cop interrogated the suspects in front of us all, then handcuffed the perp, eventually escorting him to the awaiting paddy wagon. The winner's names were drawn from the ballot boxes (two runner-up prizes and a grand prize). A variety of books, book novelties, and gift certificates were the prizes. The entry fee went to the local literacy group. Everyone had a blast. It was definitely a highlight.
You have so many wonderful settings in your books: Ashton Corners, Half Moon Bay in Vermont, and Alexandria Bay in the Thousand Islands region of New York. If you were creating a literary travel guide for your books, what's one thing you would recommend readers should do while in town, which sight would you recommend they see, and where should they go for the best food? For a weekend getaway, which character would you recommend readers stay with and why would he/she make a great host/hostess?
EL: Alexandria Bay, NY is the only real location, but I have to admit that I've deviated a bit from reality with adding new stores, houses, and even streets, so I'll recommend one real and one fictional thing to do. By all means, "visit" Chocomania, the ultra-delicious, decadent chocolate and coffee shop owned by Erica Bryant, Shelby Cox's best friend. You'll love her truffles and why not follow up with a specialty coffee, maybe a latte, which is Shelby's favorite. The real sight to see is Casino Island, where the wine festival in the second book is held. It's a beautiful area with terrific view of the river, especially Heart Island where Boldt Castle rules. It has a role in the second book.
As for hostess, I'd suggest Edie Cox, Shelby's aunt. She's thoughtful, mothering, vibrant, funny, and a ball of energy in colorful clothing, reminiscent of her hippie days. She's born and raised in the Bay and will regale you with many stories.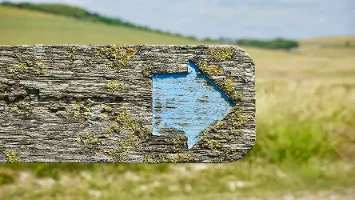 Cozy mysteries are known for featuring a cast of close-knit characters in a picturesque village or small-town setting. What role does community play in your Castle Bookshop Mysteries?
EL: That's Alexandria Bay! There is the physical community that is the setting and then the community of friends and neighbors who provide support and a sense of home and security to Shelby. They weave her into the fabric of the small town and several, either directly assist or nudge her into her investigations. It is a unique town in real life, and I've tried to add that essence to the books.
Blye Castle is rumoured to be haunted by Joe Cabana. What inspired you to write about the ghost of a Prohibition-era mobster?
EL: Joe Cabana just seemed to go with the castle setting. He wasn't originally part of my cast of characters but I wanted the castle to have a colorful past with lots of opportunities for current adventures. That's Joe's job.
Do you have the whole book outlined before you write?
EL: Before getting my first book contract, I used to be what they call a pantser. But the editor wanted a synopsis and I found it so useful a task, that I've continued it ever since. I know where it's heading and be sure I can get there. Each synopsis varies in length but I'm often really excited about getting started, so the synopsis is short. Of course, it's not written in stone. For this series, I used plans from three different castles and borrowed features that really grabbed me, combining them into Blye Castle.
I also took many photos at the beginning, of Alexandria Bay and of the two real castles in the area, Boldt and Singer Castles. I also used a street map of the town, writing in my own additions of stores and streets.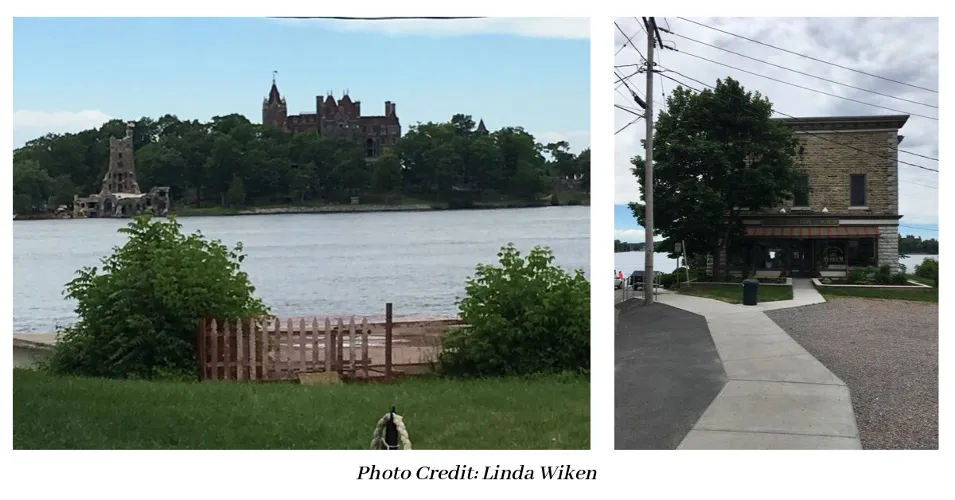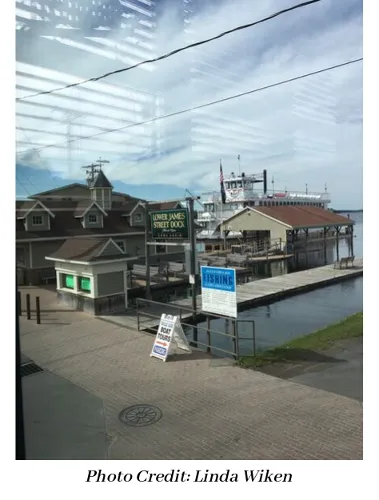 If you could give just one piece of advice to aspiring writers, what would it be?
EL: Don't give up. Keep going. We used to say, in the days of mailing manuscripts along with an SASE, "it's only a stamp". In other words, if you believe in it, keep sending it out, but consider the advice from the professionals you meet along the way be it agents or editors and re-write when necessary, then send back out again.
Curious to find out more about bookstore owner Shelby Cox? I recommend you read the delightful interview on the Jungle Red Writers blog, in which J.J. Tanner, the event planner from the Dinner Club Mysteries, chats with Shelby Cox about what it's like working in Blye Castle.
Readers can visit Essie Lang, aka. Linda Wiken, at www.lindawiken.com or follow her on Facebook.
Author Photo Credit: Graham Rolph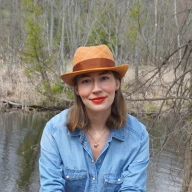 Vanessa is a Canadian crime writer. She is the author of Cover Art and other books. At the heart of all of her stories are strong female protagonists.
Read More About Vanessa Westermann