The Vanished Bride is the first in the Brontë Sisters Mystery series. Publisher: Berkley – September 10th, 2019
Before they were legendary writers, Charlotte, Emily and Anne Brontë were detectors.
It's 1845 and a young wife and mother has disappeared from her home, leaving behind two children and a large pool of blood. Her neighbours are the Brontë sisters. These not-yet-published writers decide that they will make excellent "lady detectors", because detecting is really just "reading between the lines – it's seeing what is not there."
Besides being an excellent mystery, I loved the way Ellis portrays the three sisters as smart, witty, creative and determined heroines. Frustrated with the limitations placed upon women in society, the Brontë sisters intend to seek out the truth of the crime, no matter the danger or risk to their reputations. In a world that views women as little more than property, their father provided his daughters with the skills to support themselves and to survive independently. Women at that time were underestimated and often went unnoticed, but the sisters use this to their advantage while going about their investigation. They have a wonderful bond that gives them strength. As lady detectors, the sisters intend to "make their lives bigger" and "leave a mark on this sphere, no matter how small it may be". In order to give a voice to those who have none, they risk life and limb to find out what happened to the vanished bride.
References to the Brontë sisters works are skillfully interwoven with the narrative but, even if you've never read any of their novels or poems, The Vanished Bride will be sure to delight you and have you turning the pages late into the night.
I received an ARC from the publisher, in exchange for my honest feedback.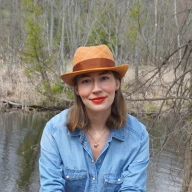 Vanessa is a Canadian crime writer. She is the author of Cover Art and other books. At the heart of all of her stories are strong female protagonists.
Read More About Vanessa Westermann