Love and Death Among the Cheetahs is the thirteenth book in the Royal Spyness series. Publisher: Berkley – August 6th, 2019
You like adventure, don't you?" I studied his face. "I do. I like not knowing what's going to happen next.
Georgie and Darcy are on their honeymoon in Kenya's Happy Valley. Georgie has her suspicions that Darcy may have arranged the trip with an ulterior motive in mind. But it isn't until they arrive in Kenya that she discovers that Darcy has been sent there on assignment, to track down a jewel thief. Robberies have taken place in London and Paris, and it's likely that the thief is a member of the aristocracy and has fled to Happy Valley.
Being quite pally with the queen, Georgie has her own mission - to keep an eye on The Prince of Wales. The upper-class English lead a decadent lifestyle, involving drinks, drugs and infidelity.
Lord Cheriton is quick to make a pass at Georgie, but she skillfully dodges his advances and makes her feelings clear. Then his body is discovered on an isolated stretch of the road, seemingly a victim of a lion attack. While this isn't an uncommon occurrence, there are many unusual aspects that point to foul play. And almost everyone has a motive to murder Lord Cheriton…
Bowen's wonderful descriptions of the setting made it feel like I was on an African safari right alongside Georgie and Darcy. I could practically feel the heat radiating off the pages and hear the calls of wild animals in the distance. I only wish Georgie had shown a little more gumption, as she sometimes seemed to stand in her husband's shadow.
Inspired by a real-life unsolved murder of a leader of the Happy Valley set in the 1930s, the story is rich with historical facts. Bowen touches upon the issue of racism, prevalent among the British in Kenya at the time, while at the same time providing the reader with the lighthearted sleuthing the series is known for. Delightful!
I received an ARC from the publisher via NetGalley, in exchange for my honest feedback.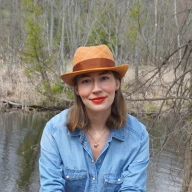 Vanessa is a Canadian crime writer. She is the author of Cover Art and other books. At the heart of all of her stories are strong female protagonists.
Read More About Vanessa Westermann