Jenn McKinlay was inspired to become a writer after watching the movie Romancing the Stone. She decided that she wanted to be Kathleen Turner, because living in an apartment in New York and writing romance novels "seemed like a good gig". I can completely identify with this – who wouldn't want to be Kathleen Turner? Along the way, Jenn discovered that she's better at killing people than making them fall in love. Jenn McKinlay is a prolific crime writer and author of the Library Lovers' Mysteries, The Cupcake Bakery Mysteries, London Hat Shop Mysteries, Happily Ever After Romance, the Bluff Point Romances, and is moving into women's fiction next year with the release of her first stand alone Paris is Always a Good Idea, as well as writing mysteries under the pen names Josie Bell and Lucy Lawrence. Whew - she's been busy!
Word to the Wise, the latest in the Library Lovers' Mysteries, will be published by Berkley Prime Crime on September 3rd, 2019.
Jenn, you've written so many books and a number of different series, I have to ask: if you could have lunch with one of your characters, which one would it be and why? And where would you choose to meet for lunch?
Jenn McKinlay: Scarlett Parker from the Hat Shop series! Mostly, because she lives in London. I mean, who doesn't want to have lunch in Notting Hill? Also, because she's funny and and vivacious and I know most of lunch would be spent laughing, which is a thing I value dearly in my friends.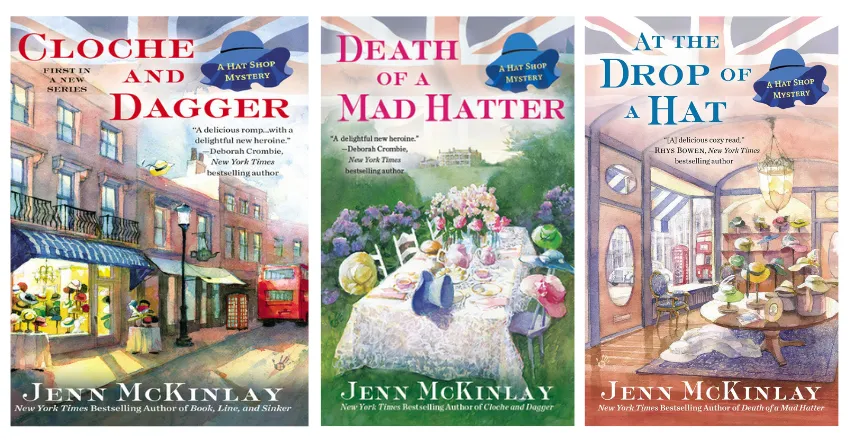 In Word to the Wise, gardening enthusiast Aaron Grady's dead body is found staged outside the library and all the clues point to Lindsay's fiancé, Sully. When you're embarking on a new mystery, where do you find inspiration for the crime?
JM: In this particular book, it came from my own life. I went through an ordeal for several months when I was a part-time librarian when a patron started to stalk me. It was, quite literally, a nightmare and much of what happens in the book happened in real life. Otherwise, much of my inspiration comes from the world at large, people I know, bizarre news stories that I read, and people watching. I love me some good people watching.
On your website, you mention that you transitioned from writing romance to mysteries. What drew you to the crime genre?
JM: I cut my teeth as a reader on Nancy Drew, Agatha Christie, and Elizabeth Peters, so I'd always loved mysteries but didn't think I was smart enough to plot one. When I failed at writing romance the first go round, it seemed that I had nothing to lose, so I went for it!
As a crime writer, who are your influences?
JM: The classics, mostly. Dorothy Gilman's Mrs. Pollifax, Rex Stout's Nero Wolfe (I even raise orchids), Dorothy L. Sayer's Lord Peter Wimsey, Agatha Chistie, natch, and for more modern authors I enjoy Ruth Ware, Harlan Coben, Robert Crais, and Janet Evanovich.
My mum is a bespoke milliner and has read and thoroughly enjoyed your London Hat Shop Mysteries, especially Cloche and Dagger. Being slightly biased, we both think this was a brilliant setting for a cozy mystery series. Why did you choose to write about a ladies' hat shop? And how did you go about researching the millinery business?
JM: How fantastic!!! I did so much research, I am thrilled that your mum hasn't been disappointed. Millinery is a very exacting profession! I came up with the idea during the royal wedding when Princess Beatrice showed up in "that hat" and I was upset that everyone was being so awful and then I thought, if I were her, I'd want to strangle the person who designed that hat. Boom. A series was born. As for research, I read everything I could (former librarian), watched endless Youtube videos, and then went to London and visited Gina Foster's tiny tucked away shop in Kensington and interviewed the women working there, who were lovely.
When it comes to plotting your novels, do you have the whole book outlined before you write? And does your planning process change depending on whether you're writing romance or a mystery?
JM: I am a plotter. Not in great detail but I need a map to get from the beginning to the end. Basically, I know what has to happen when but not exactly how, that bit is always a fun surprise! I work off of a 10-20 page outline for either a mystery or a romance. My process is the same, I just have to torture my romance characters a bit more.
If you could give just one piece of advice to aspiring writers, what would it be?
JM: Write every single day. Try for one page. In less than a year, you'll have finished a book. That's the only way the magic happens, you have to finish the book.
Readers can visit Jenn McKinlay at www.jennmckinlay.com or follow her on Instagram @mckinlayjenn.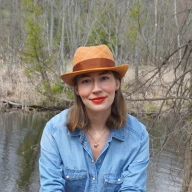 Vanessa is a Canadian crime writer. She is the author of Cover Art and other books. At the heart of all of her stories are strong female protagonists.
Read More About Vanessa Westermann