Thank you to the Westwood Library for hosting the event! It was such fun visiting with the Book Club members and being able to spend time in that beautiful library.
Find out more about upcoming events at the library on the Asphodel-Norwood Public Library website, Facebook page or on Twitter.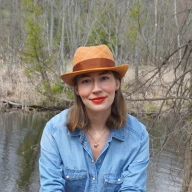 Vanessa is a Canadian crime writer. She is the author of Cover Art and other books. At the heart of all of her stories are strong female protagonists.
Read More About Vanessa Westermann