Booking The Crook is the seventh in the Bookmobile Cat Mystery series. Publisher: Berkley – July 2nd, 2019
Just because I'm short doesn't mean I'm weak. Just because I'm a woman doesn't mean I can't take care of myself.
Feisty librarian Minnie Hamilton and her rescue cat, Eddie, battle the elements in snow-covered Michigan, to deliver books to patrons in her trusty bookmobile. But when one of her customers doesn't turn up to collect her books, Minnie goes to check up on her and discovers the woman lying dead in her driveway. Worrying that if only she'd shown up earlier, she might have been able to save the woman, Minnie takes it upon herself to help find the killer. To top it off, the library has a new director, who seems to think that the bookmobile is a luxury expense. Can Minnie track down the killer and save her bookmobile?
I'm embarrassed to say that this is the first book I've read by Laurie Cass. How could I have missed this series?! I actually had to double-check that this wasn't, in fact, the first in a series, because the writing and narrative voice felt so fresh and vibrant.
Minnie is a charming amateur sleuth with a healthy addiction for books, a pro-snow point of view on winter, and a penchant for spreading cheer. October through April, she and Eddie live with her aunt in a rambling boardinghouse, but come May, she moves to a boat slip in her uncle's Marina to spend the summer in a houseboat.
For Minnie, solving a murder is just an extension of being a librarian – a little extracurricular research. She has help from her feline friend, Eddie. Eddie is no normal cat. Thankfully, he doesn't actually talk – I've never been a fan of cosies in which the animal is the narrator. But he does play an active part in the investigation, always managing to somehow point his owner in the right direction. He's intelligent and can hold an entire conversation by simply saying, "Mrr", in varying intonations.
Minnie carries a book with her wherever she goes, just in case she has to spend more than ten seconds waiting for anything. She has a tendency to slip into book-induced reveries, imagining, for instance, that she's on an Arctic Expedition with Jon Snow as she crosses a snowy parking lot. If only it were possible to be friends with a character in a book! Booking The Crook is a delightful mystery with an engaging protagonist that had me hooked to the last page.
In the meantime, please excuse me, as I dash off to the nearest bookstore, to track down a copy of Lending A Paw (#1)…
I received an ARC from the publisher via NetGalley, in exchange for my honest feedback.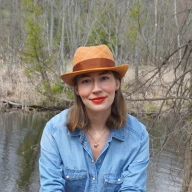 Vanessa is a Canadian crime writer. She is the author of Cover Art and other books. At the heart of all of her stories are strong female protagonists.
Read More About Vanessa Westermann