A Bias for Murder is the third book in the Queen Bees Quilt Shop cozy mystery series. Publisher: Lyrical Underground – August 6th, 2019
When Oliver Harrington dies of a sudden heart attack, his sister Adele returns to Crestwood to claim the family estate, and turn the sprawling mansion into a B&B. She hires the Crestwood Quilters to craft quilts for the guest rooms.
Ollie was a beloved member of the community and news of his death causes a ripple of sadness to spread through the neighbourhood. Adele's arrival, on the other hand, causes a whirlwind that leaves chaos in its wake. Renovations on the Harrington home are seen as a disturbance and the neighborhood is worried that the B&B will turn the town into a tourist trap.
When the autopsy reveals that Oliver was actually poisoned, suspicion falls on Adele. But Po doesn't believe Adele is guilty. Solving a crime is just like piecing together shapes into a pattern, something the quilters are very good at. Fearlessly, the women attack danger head on, in order to turn their town back into a safe place.
While I've enjoyed reading many of the Seaside Knitters mysteries by Sally Goldenbaum, this was the first Queen Bees Quilt Shop mystery I've read. I felt a bit like I was jumping in the middle, but I'm sure that readers who have followed the series from the beginning will enjoy the character development. I was surprised, and a bit sceptical, about the number of quilts they managed to complete in four short weeks. Nevertheless, it was delightful spending time with this group of strong, independent women in the quilt shop, and I loved the twists and turns the plot took.
A Bias For Murder is a charming cozy, in which the amateur sleuths piece together the crime like the pattern of a quilt.
I received an ARC from the publisher via NetGalley, in exchange for my honest feedback.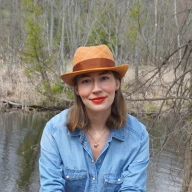 Vanessa is a Canadian crime writer. She is the author of Cover Art and other books. At the heart of all of her stories are strong female protagonists.
Read More About Vanessa Westermann