Heat Wave is set in Toronto in July 1936 and is the first in the "Paradise Café Mystery" series. Charlotte Frayne is a young associate in a private investigation agency. The city is in the grip of a heat wave, when Charlotte arrives at work to find that her boss has received an anti-Semitic hate letter. Mr. Gilmore rushes off to check if the postman has left another note at his home. While he's out of the office, she receives a visit from the owner of the nearby Paradise Café, who hires her to investigate a theft. Shortly thereafter, Mr Gilmore calls Charlotte to inform her that his wife has been attacked and he's the prime suspect. Charlotte goes undercover as a waitress at the café, while simultaneously trying to prove Mr. Gilmore's innocence.
The highlight for me was Charlotte's first-person narration. A spunky protagonist with strong opinions and principals, she's not afraid to step in when someone needs help.
Thomas Murdoch's son, Detective Jack Murdoch is also on the case. Although you don't need to have read the "Detective Murdoch Mysteries" to enjoy this novel, fans of the series will be delighted to encounter the family again.
The Paradise Café is a wonderful concept and an intriguing setting. The owners of the café are all veterans of World War I and met as prisoners of war. They know what it's like to starve – to dream of food they couldn't have - so they decided to open a café that would cater to people who are struggling to make ends meet. I'm curious to see how the series develops.
I must admit that the solution to the attack on Mrs. Gilmore had me flipping back in the book, to see if I'd missed a clue along the way. Maybe I wasn't observant enough as I was reading, but I felt like there was one part left unexplained at the end. Nevertheless, this was a great summer page-turner, filled with interesting and engaging characters. I'm looking forward to reading the next "Paradise Café Mystery"!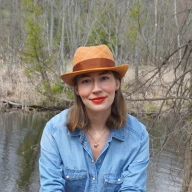 Vanessa is a Canadian crime writer. She is the author of Cover Art and other books. At the heart of all of her stories are strong female protagonists.
Read More About Vanessa Westermann