Paper Son is the 12th title in the critically acclaimed Lydia Chin / Bill Smith series. Ghost Hero (#11) was published in 2011, and it's a joy to return to the series. The books alternate between Lydia and Bill's narrative perspectives, and Paper Son is told from Lydia's point of view. Lydia is a Chinese-American PI, who lives with her mother in New York's Chinatown, while her sometimes partner, Bill Smith, is a cynical Army brat with Southern roots.
In Paper Son, Lydia and Bill leave Chinatown for the Deep South, to investigate a murder in the Chinese community, on the request of Lydia's mother. A distant cousin is sitting in a Mississippi jail, and Lydia's mother is convinced he's innocent. "Family's family." She tells Lydia to go about the investigation exactly as she would in New York. But Lydia soon realizes that the Mississippi Delta is more foreign than she thought, from racial tensions, political prejudice, computer scams, to sweet tea and sugar cookies. Can she uncover the truth in the Mississippi Delta and please her mother? Luckily, she's got Bill on her side and together, they're an unbeatable team.
In this addition to the series, Rozan takes on the theme of illegal immigration, through the 1882 Chinese Exclusion Act that led to the rise in "paper sons". As always, the mystery is gripping and well-plotted, but I did find myself missing Rozan's atmospheric Chinatown setting. Having read the series from the start, it seemed incongruous to witness Lydia and Bill using cell phones and searching Facebook for clues, but there's the same witty banter between the two characters as before and Lydia is as tough as ever. Sparks are still flying between Lydia and Bill, but will they act on them this time? You'll have to read the book to find out!
Want to know more about the history of the Mississippi Delta Chinese? Visit S.J. Rozan's blog for insights into her research process.
I received an ARC from the publisher via NetGalley, in exchange for my honest feedback.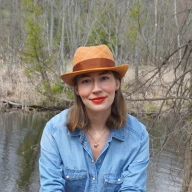 Vanessa is a Canadian crime writer. She is the author of Cover Art and other books. At the heart of all of her stories are strong female protagonists.
Read More About Vanessa Westermann