Part police procedural, part cozy, Death at the Dakota is the second book in the Trudy Genova Manhattan Mystery series by M.K. Graff.
Nurse Trudy Genova is a medical consultant to one of New York City's major television studios. The film shoot she's working on is taking place at the famed Dakota apartment building in Manhattan, which over the years has been home to celebrities, such as John Lennon, Lauren Bacall and Judy Garland. But when the star of the film goes missing and a cast member turns up dead, Trudy has to once again take on the role of amateur sleuth. Meanwhile, NYPD detective Ned O'Malley, is investigating a murder case in which the victim is burned beyond recognition. Trudy has been seeing Ned since they crossed paths during the murders at the soap Thornfield Place (in Death Unscripted), but with their busy schedules they have yet to take their relationship to the next level. When Ned uncovers a connection between his case and the Dakota, he's able to see more of Trudy. But will they ever find time for a date night?
Trudy is an engaging amateur sleuth with a tendency to stick her nose into places it doesn't belong. As a nurse, she keeps a cool head under pressure. She's trying to clean up her "truck driver mouth" - a trait she acquired from her two older brothers. Her day job allows her to take night courses at NYU to learn mystery writing. Her passion for mysteries was sparked by a dark event in her past. Her cat is named Wilkie Collins and she plays the violin to deflect her thoughts from her current mystery (fans of Sherlock Holmes - sound familiar?). Her biggest dream is to write a crime novel, set in England. Ned O'Malley is the contemporary equivalent of a gentleman detective. As the son of a prosperous family, his mother still isn't used to him being a cop.
I was impressed by Graff's attention to detail during the police procedural scenes. The technicalities of crime scene investigation and forensics are well described, without delving into gruesome details, as fits the cozy genre. Although I enjoyed reading about Ned's detective work and his friendship with Byron, the Russian medical examiner, I found that I preferred the chapters told from Trudy's point of view. Perhaps this is simply due to the fact that her chapters are told in first person point of view, which I found gave her character a stronger voice and presence in the novel. However, this is a delightful read, filled with references to classic crime fiction, wonderful descriptions of food and an intriguing setting. It's a pleasure to "visit" the historic New York building with Ned and Trudy.
M.K. Graff also writes the award-winning Nora Tierney English Mysteries and is managing editor of Bridle Path Press. Readers can visit her crime review blog at auntiemwrites.com.
Read my interview with M.K. Graff, about her research process and insights into indie publishing, HERE.
I received an ARC from the author, in exchange for an honest review.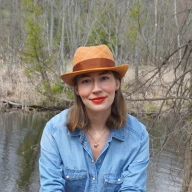 Vanessa is a Canadian crime writer. She is the author of Cover Art and other books. At the heart of all of her stories are strong female protagonists.
Read More About Vanessa Westermann