Shelley Freydont is the author of several mystery series, including the Newport Gilded Age Mysteries, the Celebration Bay Mysteries, Sudoku Mysteries and mysteries featuring ex-dancer Lindy Haggerty. As Shelley Noble, she is the New York Times bestselling author of several women's fiction novels. People often compare her writing to that of Georgette Heyer.
I recently read and thoroughly enjoyed Shelley's A Gilded Grave and am delighted to be able to interview her.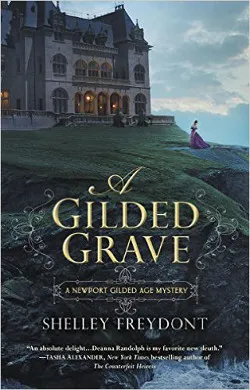 If you could have lunch with one of your characters, who would it be and why?
Shelley Freydont: I would love to have lunch, or perhaps high tea, with Gwendolyn Ballard, Joe's grandmother [in A Gilded Grave]. Born in the 1820s just ahead of Victoria's reign, she came of age in a world where women had few rights. When they married, their property became their husband's. Their children even belonged to the husband. Gwen managed to develop into a formidable woman, the precursor of the "New Woman" of the late nineteenth century. And though curtailed by the current mores of society, she managed a quiet authority, and was able to encourage her daughter Mary, Joe's mother, to become an early activist in women's and workers' rights.
I'd really like to have lunch with all three women who take center stage in A Gilded Grave. Gwen, Mary and Deanna, three generations, to hear their take on how society really worked and how much change had happened over the course of several decades. The funny thing about history is that for all the reports of the standard mores of behavior, there were always outliers, women who explored Africa, who went on hunger strikes, who spied for the government. I just love these women who went before. There is so much to learn from the way they managed to blaze new trails.
Your Newport Gilded Age Mysteries are set in the late 1800s, at the height of the Gilded Age. As Shelley Noble, you write the Lady Dunbridge Mysteries, which take place in 1907. What is your research process like when you write a historical mystery?
SF: I love research, and I've always been interested in this period of history, first in the development of the theatre and then in general. When I'm starting a novel, I read primary sources, newspapers and memoirs of the day, to discover interesting events and people and begin to play with situations. I keep a file of different subjects: art, fashion, events, architecture, people, science (since Joe is an inventor), detective techniques of the period to form a "Bible" of all the facts that I may need.
In A Gilded Grave, Deanna Randolph asks, "Why didn't women get more freedom the older they get, like men did?" As a female amateur sleuth in Rhode Island in 1895, what is one limitation that Deanna struggles with and how does she overcome it?
SF: In the 1890s a well-off girl had one career she had to succeed in, marriage. Everything in her youth was geared toward "making a good match" i.e. finding a successful, rich, virile, and hopefully kind, husband. And yet at the same time, middle and working class young women were in the work force as typewriters (that's what the young women who used the typewriting "machines" were called in those days), went [to] secretarial school or college. Working class girls went to work in factories, sometimes sweat shops where there was little enforcement of child labor laws, also in the ever-expanding department stores as salesgirls. But Deanna was determined to be one of the "The New Women". But getting out from under the thumb of her over protective mother requires ingenuity and a bit of sneaking about. Fortunately Joe is considered a good match so his expertise is helpful to her detecting. Exciting times.
Your latest Lady Dunbridge mystery (writing as Shelley Noble) will be released in November 2019. Could you tell us briefly what Tell Me No Lies is about?
SF: Lady Dunbridge is a young widowed countess who was instrumental in solving the murder of her best friend's husband in her first book, Ask Me No Questions. She now lives at the newly built Plaza Hotel in Manhattan. She's called in to investigate the death of a young business mogul, just as the financial Panic of 1907 reaches it peak. Little does she know that this very personal murder is linked to not just the financial world but to the military and some of the latest inventions. She is aided by her faithful servants: her butler, Preswick, her lady's maid, Lily, a handsome honest police detective, and a mysterious colleague—or perhaps nemesis—who is a master of disguise. Mayhem ensues.
If you could give just one piece of advice to aspiring writers, what would it be?
SF: Be resilient. Publishing is always changing and you have to be able to change with it. You might have to reinvent yourself, change genres, leave one agent, editor or publishing house and find another. I keep a fortune cookie taped to the wall above my computer. "You can't slide into second, when one foot is still on first." Take a chance, while you continue to study your craft, hone your skills and delve deeply into your characters.
Readers can visit Shelley Freydont at shelleyfreydont.com or follow her on Twitter @ShelleyNoble3.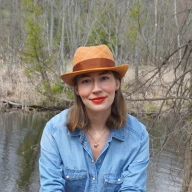 Vanessa is a Canadian crime writer. She is the author of Cover Art and other books. At the heart of all of her stories are strong female protagonists.
Read More About Vanessa Westermann