Vicki Delany is a prolific Canadian mystery novelist and a national bestseller in the U.S. She is the author of cozies, Gothic thrillers, police procedurals, historical fiction as well as The Sherlock Holmes Bookshop Series, and the Lighthouse Mystery Series, written as Eva Gates.
The fourth installment in The Sherlock Holmes Bookshop Series, titled A Scandal in Scarlet, will be released on November 13, 2018 in the US and on November 23rd in Canada.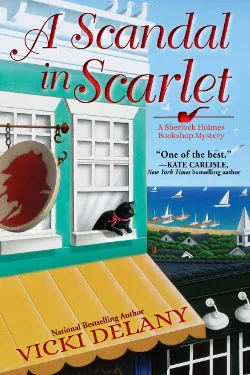 I've enjoyed your Sherlock Holmes Bookshop Series, and would love nothing more than to spend an afternoon browsing Gemma Doyle's Sherlock Holmes Bookshop, followed by scones and clotted cream in Mrs. Hudson's Tea Room. Could you tell us briefly what the latest book in the series, A Scandal in Scarlet, is about?
Vicki Delany: A Scandal in Scarlet is the fourth book in the series. It begins when a fire badly damages Scarlet House, the historical museum in their town. The museum volunteers organize an auction and afternoon tea at Mrs. Hudson's Tea Room to raise funds to rebuild. When the chair of the museum board is found dead, the game is once again afoot and it's up to the perceptive Gemma Doyle and the loyal, but ever-confused Jayne Wilson, to track down the killer. Lots of fun for Sherlock aficionados but non-Sherlockians can simply enjoy the mystery.
Books are Gemma Doyle's first love and yet, intriguingly, she is not a Sherlock fanatic, despite the fact that she owns a shop specializing in Sherlockania. Which book (excluding those written by Sir Arthur Conan Doyle) has most inspired you as a writer, and why?
VD: It would be awfully hard to select one book that inspired me, so I won't try. I've always read a lot and I continue to do so. I can tell you what my favourite books are though: To Kill a Mockingbird and An Instance of the Fingerpost and The Crystal Cave come instantly to mind.

Arthur Conan Doyle was an Ophthalmologist and used his time, waiting for patients, to write a series of short stories about a detective named Sherlock Holmes. Observation is a key theme in these stories, and plays a predominant role in the way Holmes solves crimes. On your website, you state that you first began writing while being a single mother and working as a computer programmer. Do you find that your previous life as a computer programmer has influenced your writing?
VD: I believe it has, although the two things seem to be so vastly different. The main thing I learned from being a programmer is that you have to know where you are going before you begin. The end has to be totally understood, before starting. Programming is also highly detailed, of course. A misplaced digit can destroy the program entirely. Although I have to confess I am not like that in my non-computer life. I am also nothing at all like the ultra-observant Gemma Doyle. But I love writing her.
Arthur Conan Doyle notoriously grew to dislike his fictional creation and attempted to kill off Sherlock Holmes, resulting in public outrage. Doyle stated that he preferred writing historical novels. You also alternate between writing contemporary mysteries and historical fiction. In what ways does the writing process differ?
VD: There is far more research involved in writing historical mysteries than contemporary ones, at least contemporary books that are more or less set in the type of society in which you are living. It's important in historical fiction, I think, to recreate the mood of the times and the attitudes that people would have had as much as possible. I really loved learning so much about life in Dawson City during the Klondike Gold Rush and about the fate of the Loyalist settlers to Canada in 1793. Although I have to add that I'm not writing historical anymore.
If you could give just one piece of advice to aspiring writers, what would it be?
VD: Read, and read a lot. Read widely and extensively. Good writing should inspire you. Your reading should show you what works, and what doesn't work.
Thank you so much taking the time to answer my questions!
VD: You are very welcome. Thank you.
To find out more about Vicki's other titles, visit her website at www.vickidelany.com or follow her on Twitter @VickiDelany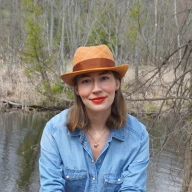 Vanessa is a Canadian crime writer. She is the author of Cover Art and other books. At the heart of all of her stories are strong female protagonists.
Read More About Vanessa Westermann