The Dame Was Trouble is a collection of noir short stories by the best female Canadian crime writers. This anthology subverts the gender stereotypes of classic crime fiction, in which "ladies have historically gotten a bum rap". Readers won't find the usual character tropes of the side-lined femme fatale, the girl-next-door or the one-dimensional victim. No, these stories feature a wide range of multi-faceted female protagonists - and these women are most definitely trouble.
"Indispensable" by Kelley Armstrong is the first story in the collection and is a fine example of classic hardboiled crime fiction with a twist. The female protagonist works as a secretary for a condescending private eye, who would rather spend his time schmoozing the clients, than gumshoeing. That's fine by Ivy. She has her own agenda. She makes herself indispensable, to suit her own ends, and runs circles around the men she encounters.
In "Hook, Line and Sinker", by Melodie Campbell, a man picks up a woman in a bar, a one-night stand on the cards. It seems like a typical scenario. But don't fool yourself. This is a carefully orchestrated plan for revenge, and the dame has the man exactly where she wants him, caught "hook, line and sinker".
The dames in these stories range in race, sexual preference and age. In M.H. Callway's "The Seeker", a woman in her sixties leads a high-speed car chase, only to follow that up with a shoot-out in a mini-mart. As always, Callway's prose is action-packed, keeping the reader hooked to the last sentence.
This is noir at its best - and the women are in charge. The office girl, the woman at the bar, the double-agent, the sex robot… they've all got an ulterior motive. Whatever you do, don't underestimate them.
You can buy your copy of The Dame Was Trouble on amazon.ca or directly from Coffin Hop Press.
M.H. Callway and Melodie Campbell have both previously been interviewed on Vanessa's Picks. You can read the interview here.
I received an ARC from the authors, in exchange for an honest review.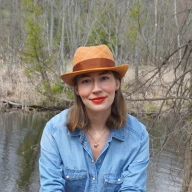 Vanessa is a Canadian crime writer. She is the author of Cover Art and other books. At the heart of all of her stories are strong female protagonists.
Read More About Vanessa Westermann