Having taught creative writing, my bookshelf is filled with texts offering advice on developing writing skills. I was therefore delighted to receive the opportunity to read an advanced reading copy of GAIL BOWEN'S Sleuth.
In 2008, Reader's Digest named Gail Bowen Canada's Best Mystery Novelist, and in 2018 she was recognized with the Crime Writers of Canada Grand Master Award. She began writing at the age of 43. In Sleuth, Gail Bowen draws on her own experiences as a debut author, on the publishing process of the first Joanne Kilbourn mystery, and her background as a teacher in order to offer advice for those aspiring to write mysteries.
While I found that the personal anecdotes were at times too lengthy, Sleuth is filled with many valuable pieces of advice, especially about the planning process a writer goes through.
Two points in particular stood out for me:
To understand what makes a good novel, Bowen stresses the importance of being a reader. Approach your own favourite books as though you were in a university level lit class, and identify how that writer uses the elements of fiction to write a successful story. Write what you like to read.
"Good writers are good live-ers." Bowen stresses the value of finding inspiration by living life to the fullest. Take notes of everyday encounters, record moments, emotions and thereby "keep your well of ideas full". How can you continue writing compelling narratives, if you remain locked away at your desk?
Sleuth is well worth a read, especially if you're looking for a guide on how to develop an engaging mystery.
I received an ARC from the publisher via NetGalley, in exchange for my honest feedback.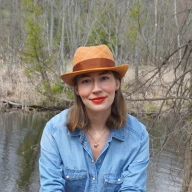 Vanessa is a Canadian crime writer. She is the author of Cover Art and other books. At the heart of all of her stories are strong female protagonists.
Read More About Vanessa Westermann