For IAN RANKIN's John Rebus, it's not about status but about the job itself. He's accepted the demotion to Detective Sergeant, in order to come out of retirement and re-join the Edinburgh police. In Saints of the Shadow Bible (#19), Rebus's return coincides with a change to the double jeopardy law, which allows the police to re-prosecute old crimes. The Complaints Department is looking into a case from the '80s, which involved Rebus's former colleagues in Summerhall CID. The officers called themselves the Saints of the Shadow Bible and disregarded the rules of criminal law, because they believed they knew better. The Saints got results, but at a cost, and they're still paying for it now.
Malcolm Fox is the investigating officer and wants to use Rebus's knowledge and connections to expose the crimes of the past. All the Saints lied, cheated and concealed, and Rebus has his own skeletons in his closet. As the investigation progresses, he has to decide where his loyalties lie.
Rebus is like a chess wizard who plays a dozen boards at the same time, and if it looks like he might be losing a game, the pieces go flying. The Saints isn't the only case he's investigating. A young woman was injured when she lost control of her car on a straight stretch of road. Rebus doesn't believe she was alone, but she and her boyfriend, the son of a prominent politician, refuse to answer his questions. Rebus has never been good at sticking to the rules, and Rankin adeptly shows the nuances between saint and sinner in this intelligent and complex novel. I loved the verbal stand-offs between Rebus and Fox, which express both animosity and grudging respect. It's great to have Rebus back on the job.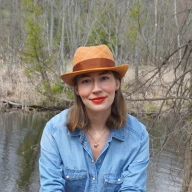 Vanessa is a Canadian crime writer. She is the author of Cover Art and other books. At the heart of all of her stories are strong female protagonists.
Read More About Vanessa Westermann