M.H. Callway very kindly sent me a copy of 13 O'Clock, the second crime anthology by the MESDAMES OF MAYHEM. I normally prefer to pick up a novel, rather than a short story collection, when looking for reading material. However, having just worked with a group of budding young authors in a creative writing class and given advice on crafting short fiction, it was a pleasure to read an anthology by lauded female Canadian crime writers and class it as 'research'. These twisted tales offer entertainment to suit your every whim or perhaps, more appropriately, to suit the time of day. Over crumpets at breakfast, perhaps you'll find yourself reading "Pulling a Rabbit", about a woman whose adventurous spirit leads her from theft to abduction. Over a pre-dinner glass of merlot, you may choose to read "Glow Grass", about dark deeds and blood-shed at a decayed family cottage. Whichever story you choose to read, at whatever time, you're sure to find a tale of crime that will appeal to you, from the supernatural to comedy capers.
I received an ARC from the authors, in exchange for an honest review.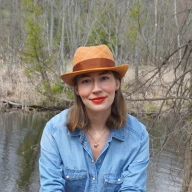 Vanessa is a Canadian crime writer. She is the author of Cover Art and other books. At the heart of all of her stories are strong female protagonists.
Read More About Vanessa Westermann