Chimney sweepers are associated with good luck and especially so at the start of the new year, so my January pick is ALAN BRADLEY's latest addition to the Flavia de Luce series, As Chimney Sweepers Come To Dust (#7). Yes, I realise the title is a euphemism for death, but I'm sure mystery readers will agree, the more macabre the better. Bradley's Flavia de Luce mysteries are about a self-confident and resourceful eleven-year-old girl in 1950s England, who has a passion for death and pottering with poisons. She's been banished to Miss Bodycote's Female Academy, her mother's old boarding school in Toronto. She is to be trained to take on an ancient and hereditary role… whatever that may be. Everything seems rather bleak until a body tumbles out of Flavia's bedroom chimney. What luck! Flavia carries out her murder investigation, while making new friends and attending chemistry classes, taught by an acquitted murderess. The series has changed slightly since Bradley revealed in The Dead In Their Vaulted Arches (#6) that Fate has a hand in Flavia's destiny. Flavia's thoughts keep drifting back to home and to England, and so do the reader's. I couldn't help wondering what was happening at Buckshaw, but Flavia was delightful company as usual. You can't go wrong with any of the books in this series by the Toronto author.
I received an ARC from the publisher via NetGalley, in exchange for my honest feedback.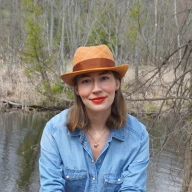 Vanessa is a Canadian crime writer. She is the author of Cover Art and other books. At the heart of all of her stories are strong female protagonists.
Read More About Vanessa Westermann