For all those of you who left the pages of Dana Stabenow's Kate Shugak series with frostbite on your fingers and a yen for more, let me take you further into the cold, and then further still, deep into the Arctic tundra of M. J. MCGRATH's Edie Kiglatuk mysteries. White Heat (#1) is set in the barren and isolated landscape of Ellesmere Island. In these harsh conditions, half-Inuit Edie acts as one of the few female guides for white hunters, who want to experience an arctic adventure. But when a tourist in her charge is shot during an ice storm, and her stepson commits suicide shortly thereafter, Edie begins to ask questions, whatever the cost. As a recovering alcoholic, Edie must summon all of the courage she possesses as a hunter in order to overcome the tragedy she is faced with. Although the mystery itself is weak in parts, I found the expert portrayal of Inuit history and artic living more than made up for any flaws in plotting.
McGrath is a British journalist and author of a non-fiction book on the 1952 forcible Canadian relocation of Inuit families to the uninhabited Ellesmere Island. McGrath uses this research to portray aspects of sustenance living, Inuit language, and the fundamental role the climate plays in the lives of her protagonists, in an authentic and sympathetic manner.
The sequel, The Boy in the Snow (#2) is set in Alaska, where Edie is helping her ex-husband in his attempt to win the Iditarod dog sled race. Following a spirit-bear in the snow-laden Alaskan forest, Edie stumbles upon the body of a dead baby boy, his skin glittering with ice crystals inside a small spirit-house. The death is blamed on the Dark Believers, an ominous offshoot of the Russian Orthodox sect, but Edie has her doubts. Spurred on by a strong sense of empathy and integrity, Edie investigates a crime that leads her into a world of corrupt politics and sex trafficking. I preferred the setting of White Heat for its originality, but both novels are enjoyable reads. Just be sure to dress warmly!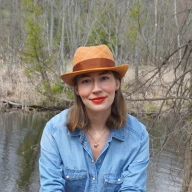 Vanessa is a Canadian crime writer. She is the author of Cover Art and other books. At the heart of all of her stories are strong female protagonists.
Read More About Vanessa Westermann